For those of you who don't know me, my name is Nargis: single, 20 something (a woman never reveals her age), and looking to have the best time around town. My best friend is Tina who I have been stuck with since our primary days – she might be featuring in a lot of my adventures, so might as well introduce her now (plus, I know she's dying for a shoutout). My friends and family are constantly bugging me to share my ideas and opinions –  naturally who else will give such great advice? So I thought what better time to start giving back to my community than in Ramadan. Today I am going to tell you about my first time at bao bae.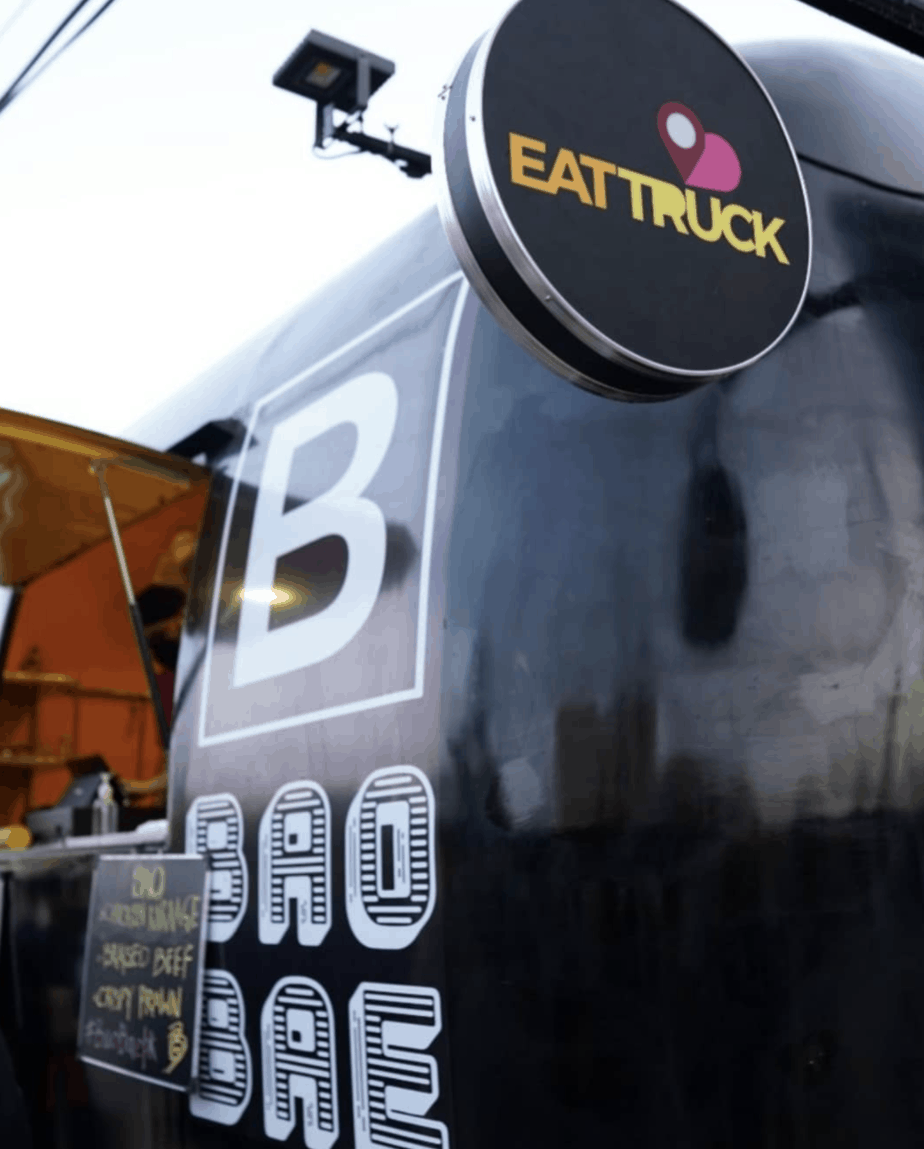 When something new opens in town, of course I have to try it. If Nargis hasn't taste-tested it, is the hype even real? If you've driven past 26th street you couldn't have missed the new food truck everyone's been buzzing about; it's a simple, black truck resting on an empty plot with the words "Bao Bae" across its front in big white letters. It's a new venture curated by Mirwan Abid and friend Daniyal, which has finally brought one of Asia's beloved delicacies to the streets of Karachi. It's not your average fancy, dine-in restaurant or a place you would stop by to sit and eat – mujhey toh samajh nahi aata, why get all dressed up to get my food from a truck? But I thought chalo, there must be something good if this is the new talk of the town. Woh bhi in this pandemic don't want to mingle with the usuals I bump into at Kolachi, uff no mood for small talk these days.
For those of you who are unfamiliar with this food, a bao bun is known for its light and fluffy texture, composed mostly of flour followed by other ingredients like yeast, sugar, milk and so on. Originally from Taiwan, over the years bao buns have gained popularity around the world, and the fillings have become increasingly diverse with an array of options from fried chicken, to vegetables, or even served as a dessert. My family love the ones I make at home, but naturally, I can't go around selling everything good I make – must give other people a chance. At Bao Bae, Chef Abid has a selection of three signature bao buns: chicken karaage bao, braised beef bao and crispy prawn bao. Apart from this, they also have hand cut udon noodles with an option of two sauces: black pepper tamarind if you want something spicy, or their bao bae signature sauce.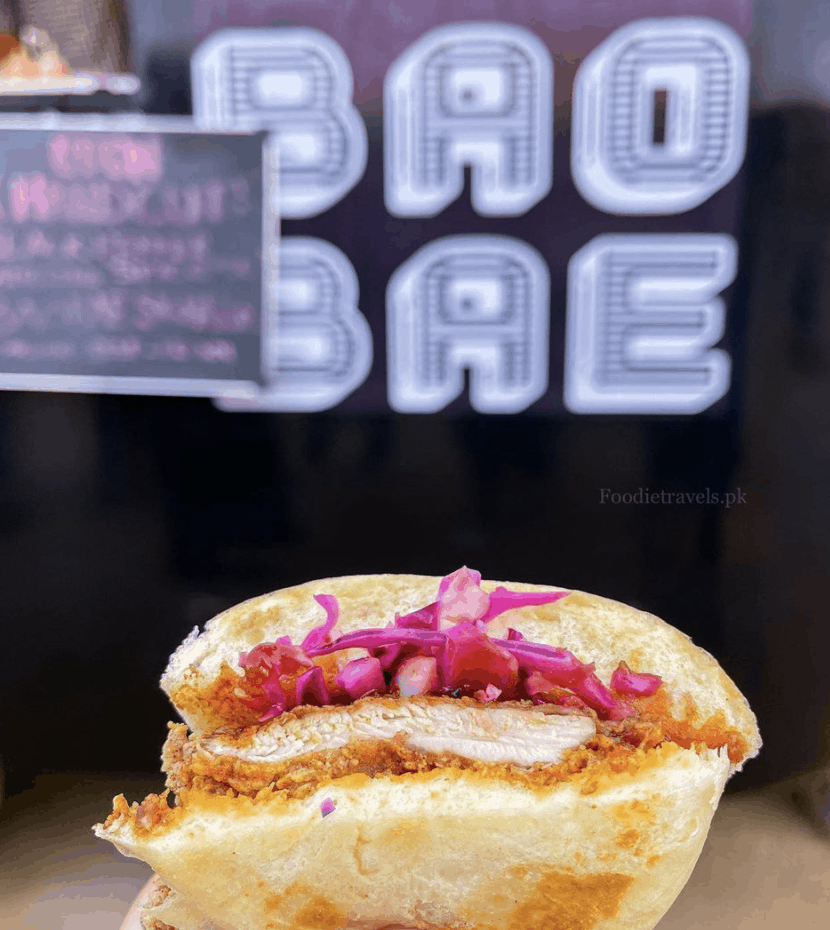 Pictured Above: Chicken Karaage Bao
As my Whatsapp flooded with talk of this new food venture, I decided to try it out for myself because it's only my opinion I can really trust. Tina toh ate my head "we must try it, we must try it", as if she runs the place. Of course, the generous soul that I am, I took her with me. After all what are friends for? The timings for Ramadan switched to 8pm onwards, so of course I made it there right on time – I'm nothing if not punctual. Suna hai kai it gets awfully crowded later and I don't have the patience.
I tried two of the buns, fried chicken and fried prawn, and I must say they were quite delicious. Waisay toh, you know I can't live without my baked samosas, but ab I can't be dieting all the time, the awaam needs my opinion on such things so I have to be selfless. Neither of the buns were too sweet or too spicy, but the perfect blend of flavours came together to make the perfect meal. They had a lovely, slightly sweet, but very fluffy texture that just melted in my mouth. The chicken was crisp to perfection, with some spicy mayo, pickled cabbage and a sweet glaze that balanced everything perfectly. The deep fried prawn almost reminded me of a sophisticated filet-o-fish (not that I would ever go near one now) filled with a spicy tartare sauce, a sprinkle of chilli lime salt and the freshness of lettuce and pickled onions. 
I even had a chance to have a little chat with Mirwan and his friend Daniyal – you know, to give them any advice they may need. They both are lovely chaps who started the venture together, hoping to bring a mix of high quality fine dining and fast food at an affordable price, as well as introduce truck culture to the city. 
They wouldn't give up their secret ingredient (not that I need it for my delicious cooking), but I got a little inside scoop that delivery will start around next week shukur hai, plus more items will be added to the menu in the coming months. Daniyal is running operations and has grown up around the family food business, while Mirwan actually started off as a dishwasher and worked his way up. He trained from Cordon Bleu in London and then at more Michelin star restaurants, after which he decided to bring his expertise back home. Honestly thank God for that, sometimes I think I am the only expert cook in town and often, I just don't want to cook for myself. 
Naturally, I can't just fly to Taiwan for the best bao buns, abhi toh I'm still waiting for my teeka. but three hip hips for this Abid and Daniyal who have done a great job here at home for us. Over the years we have seen Karachi expand in its variety of food cuisines, and we hope to see more aspiring chefs continue to bring new and delicious ventures to our streets. Next time I'll bring the family – I needed my peace and quiet today (as much as I can get with Tina around!).