If you aren't yet familiar with Alishay Adnan and Moeez, let us introduce you. Alishay Adnan is one of Pakistan's top fashion stylists, as well as the co-founder of the jewellery brand Filgree. Moeez Ali is a Pakistani photographer who is known internationally for his coverage of fashion week, his campaigns with renowned brands such as Net-a-Porter and Adidas, and has photographed huge names such as Gigi Hadid. Together, they make a power duo and their recent collaboration revolving around the concept of fusion fashion attests to it. In it, Alishay is showcasing some Filgree pieces with the flair of style that she is famous for and Moeez is brilliantly capturing the moments. We had the honour of talking to them about the shoot and their work in general – read our interview with them below!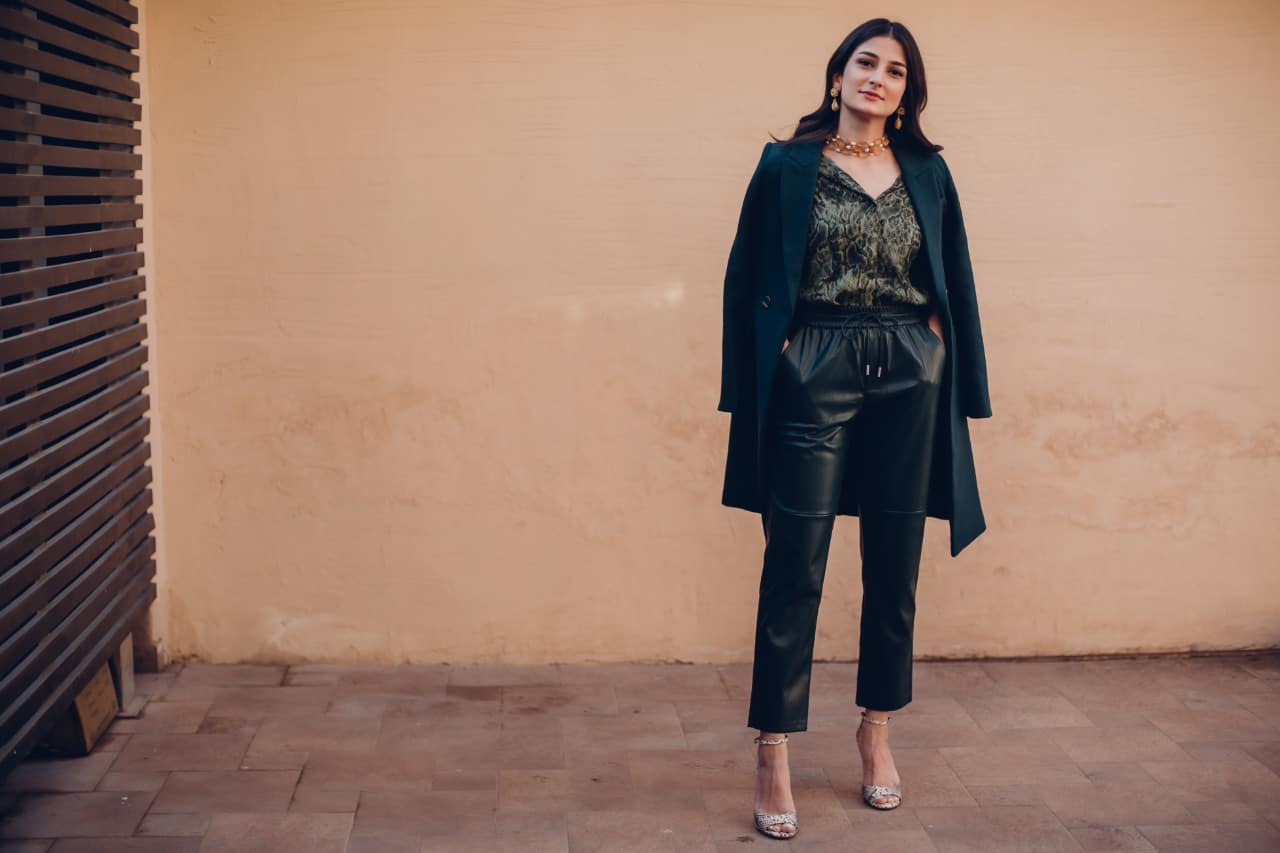 Questions For Alishay:
What made you both decide to collaborate with one another?
Answer: We had been following and admiring each other's work on Instagram long before we met. After meeting and seeing how well we got along, this collaboration was only bound to happen and turned out to be as amazing as we wanted it to be.
Tell us about your jewellery brand, Filigree. How would you describe it in a sentence? Who is the Filigree girl?
Answer: Filigree is a brand that celebrates the old age craft of jewellery. It's for any girl who loves heritage designs and appreciates the intricate workmanship that goes behind it. Jewellery is the best accessory a girl can add to elevate her look so we try to help clients make a powerful statement through our pieces.
The concept of this shoot was to showcase fusion fashion. How did you choose pieces for this? How can the average girl put together an outfit like this? Is there any styling rules you follow?
Answer: I could create fusion looks with any piece from Filigree and that's simply because I don't believe in any hard and fast rules when it comes to styling. What could be taken into consideration is the colour, texture and print of the outfit which shouldn't clash with the jewellery. Also, keep your other accessories minimal and let your jewellery do all the talking.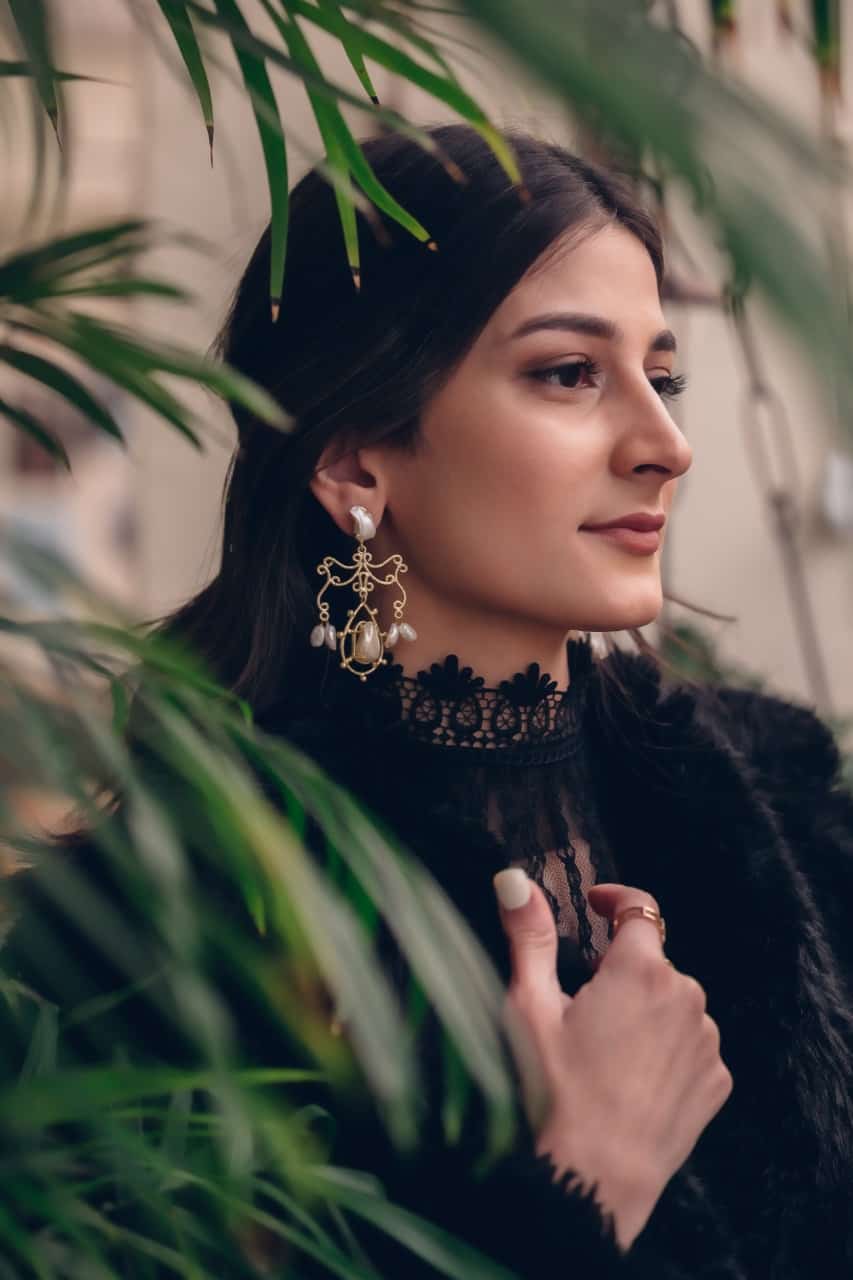 In this shoot, it's obvious that your profession as a jewellery designer and a stylist tend to compliment one another. Can you tell us more about what aspects of styling reflect on your jewellery designing and how important jewellery is when it comes to styling an outfit?
Answer: I don't design the jewellery at Filigree but I do help with curation. Being a stylist I'm lucky I have access to knowledge about what's trending and what the market enjoys. This knowledge combined with my love for fashion makes this business super fun. At Filigree, we try to cover all styles and tastes. We have clients who prefer traditional regal looks and clients who have a minimalist understated style. Our main objective is to let every Filigree woman feel powerful in what gives her the most confidence and happiness.
Tell us about your working relationship with Moeez as a photographer? Why did you chose him to photograph this particular shoot?
Answer: I wanted to shoot with Moeez since I followed him on Instagram and its amazing how we got to shoot a concept so close to our hearts. He was coincidentally in town when I told him about Filigree and that's when we decided to have this collaboration. I absolutely loved working with him because I could be myself and do my thing while he kept clicking from different angles while playing with lights and shadows. I was super comfortable and had no pressure to pose because he believes in keeping it real and that's what made this one of my favourite shoots. He's amazing at what he does and I realised that when he showed me the pictures from his camera. It was the first time I  didn't have to imagine what the photos would look like in post because they barely needed any work and for me that's the first sign of a phenomenal photographer!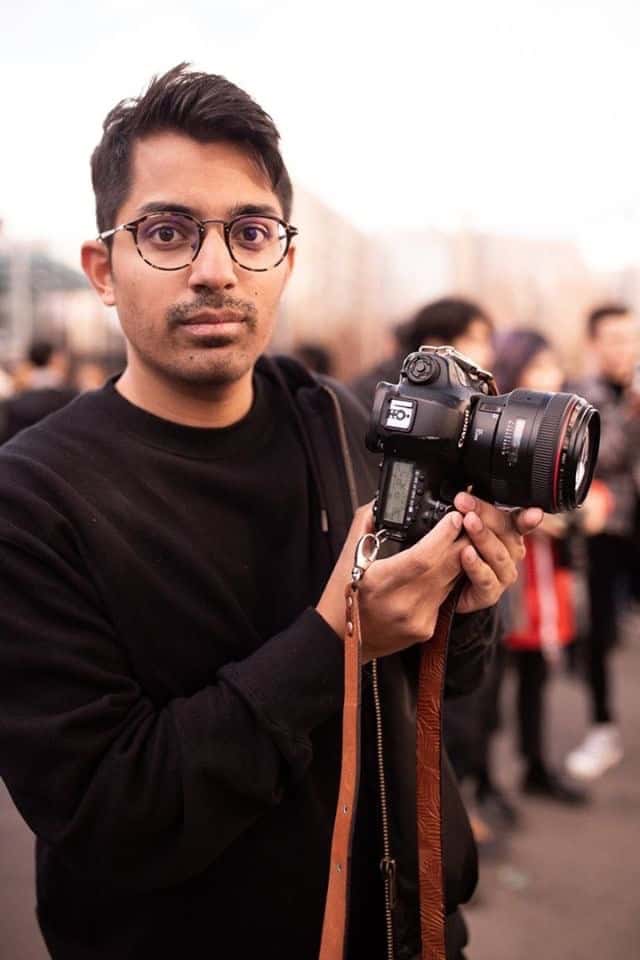 Who are some of your inspirations in photography? Anyone you look up to?
Answer: I came into photography in a very unusual/unconventional way, so I never really had any inspirations before I started or even when I was starting out – only because I had no interest in photography, let alone an interest in making it a full time career. That being said, my current favourite street style photographer is Jonathan Daniel Pryce – you can just tell a picture is his within seconds of looking at it. Street style is quite saturated and people's work tends to start to look the same a after a while, but Jon's work has always been so distinctive, which I think is incredibly impressive in its own right. Other than that, some favourites right now are: Nadine Ijewere, Louie Banks, Alexander Saladrigas, Morgane Lay, I loved Tyrone Lebon's recent Bottega images, Joe Greer, Nadia Lee, Michal Pudelka, Daniel Arnold and Greg Williams.
Considering you're known for photographing fashion week and street fashion, how different is that to a shoot like this one for Filigree?
Answer: Fashion week and street style is probably what I'm best known for I guess, but that's only for three months of the year; the rest of the year I'm shooting editorials/trips/campaigns. So in that sense, it wasn't anything unusual or new for me when doing this shoot for Filigree. The main differences were shooting in Pakistan for the first time since becoming a photographer, shooting a Pakistani brand and finally, shooting on a Pakistani face. Personally, I try to apply the same principles from the way I shoot street style to the way I do a shoot like this, so I go for more candid and natural shots as opposed to any obvious posing.
What's it like shooting internationally compared to shooting back in Pakistan? Where do we lack? What would you like to see more of? What international photography trends did you follow in the shoot?
Answer: I can't compare or comment too much as I have very little experience with shooting in Pakistan; in fact, shooting Alishay for Filigree was my first and only experience so far, and that was a very casually put together shoot! I'm not sure that I'd say we "lack" in anything, more just that the style of photoshoots in Pakistan is very different and that's probably because that's what the audience likes. That being said, I do feel like there are very few brands which seem to experiment with creative direction on campaign shoots. A lot of the overall style always looks the same. However, the one brand I know  that experiments in a really cool way is Zara Shahjahan. We have some of the most beautiful clothes and people in the world, yet brands here always put in the same settings and set designs (usually dramatic or extravagant) and then often heavily retouched – why?! Despite growing up abroad, I'm very, very proudly Pakistani and want to try showcasing our brands and designs to a Western audience, but in a more minimal style.
My own style is much more stripped back and simple – I like to focus on the product and the person wearing it, because I don't think that you can throw clothes onto any person and expect them to always look the same. Different outfits suit different people, and that needs to be captured appropriately. I do like to have nice backdrops for sure, but it has to complement the outfit and context perfectly. As for what trends I followed, I can't say that there were any specific ones; I just tried to keep it very simple because we wanted the focus to be the jewellery which is beautiful enough on its own, and then the styling, which was the perfect blend of how to wear this kind of jewellery with 'western' styling. Plain-ish backgrounds and the perfect light is all we needed, Alishay and her styling did the rest!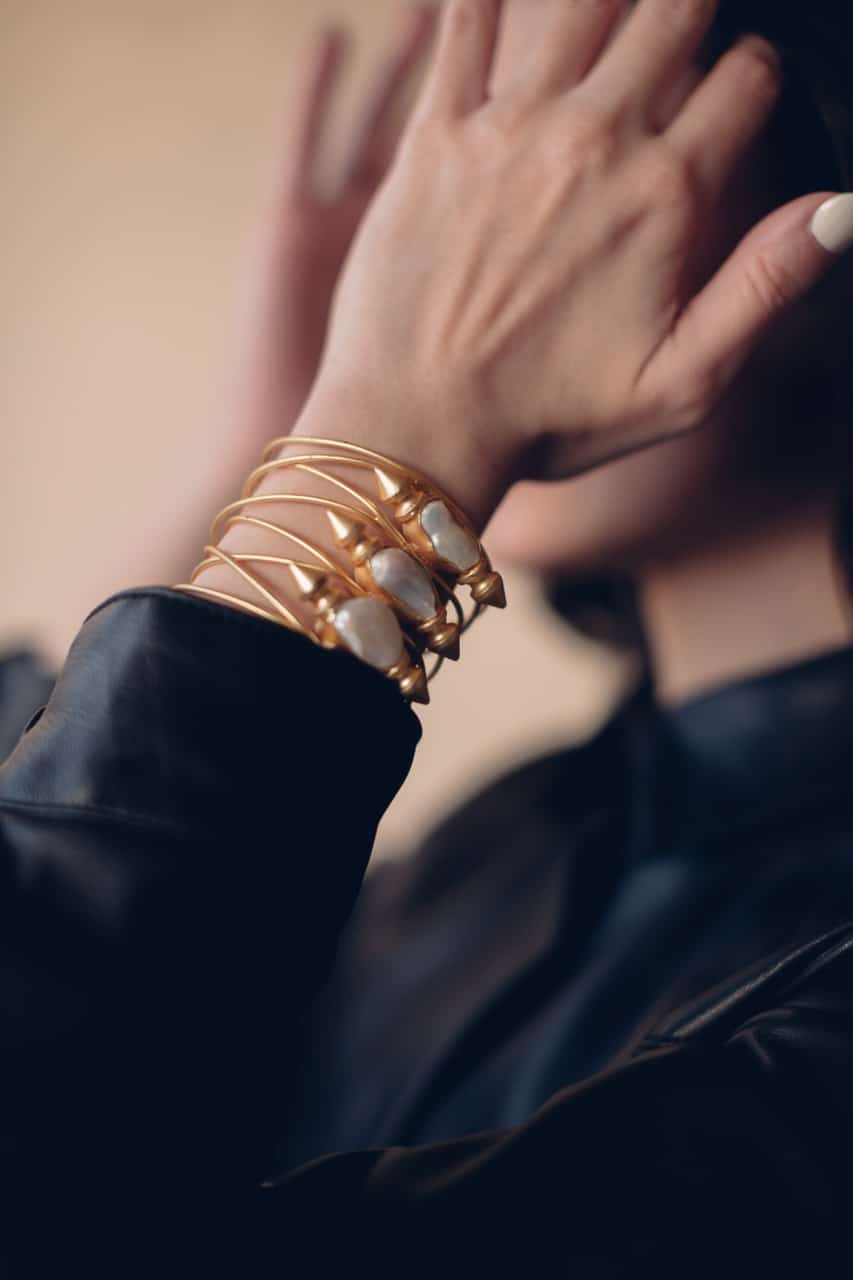 What moments in your career have you been proudest of?
Answer: All of them! Everytime I work with a new brand or even if it's the same brands trusting me to work with them again, I feel immensely proud and flattered. Given how I've come into this field, I'm very grateful for any work that comes my way. If I had to pick some specific moments, I'd say doing campaigns and travelling with Net-A-Porter and Jimmy Choo are up there for sure. I had a full campaign in stores and on the London Underground tube stations ads for Adidas x FootLocker, which was crazy to see. Shooting any shows (backstage) at fashion weeks is always a hugely proud moment, because I'm being trusted with a different level of access. Lastly, it's always a giddy moment when someone big reposts my images e.g. Gigi and Bella Hadid, Cindy Crawford Jared Leto have all used my images (not always with a credit, but I'll live). It was a big moment for me to photograph Mahira Khan at Paris Fashion Week, both because it was my first experience with a Pakistani celebrity, but more so because I was so excited to see someone from Pakistan on fashion's biggest stage. I'm certainly proud, but I'm not fully satisfied yet and have a lot more I want to accomplish before feeling truly satisfied!
How was your experience shooting with Alishay? Tell us a little bit about how the shoot incorporated both of your distinctive aesthetics?
Answer: It was so wonderful because it was so easy! Of course there were some nerves (mainly on my end), but after the first look, we sailed through. It helps when the brand/stylist/model (all Alishay in this case) is organised and clear in what they want, which is often not the case. I love the products and thought her styling was perfect for what she wanted to showcase, so it made the shoot more enjoyable for me too. I think the shoot incorporated my aesthetic with its simplicity and use of natural light only, plus perhaps the composition of the shots. From Alishay's side, I'd say her unique take on mixing Pakistani with Western was quite evident, which is not easy to do well. What I love most about this shoot is that it's appealing to all audiences, not just in Pakistan, and I really believe Filigree could be successful in other markets too – so hopefully this is just the beginning!
More From Alishay x Moeez  x Filgree