What food to pack, which clothes to carry and what medicines to keep in case of emergency are some of the things we consider when planning a trip. But having your period make an unexpected visit on a vacation is possibly the last thing on our minds.  It has the ability to effectively ruin everything! But while it's inconvenient, it should never stand in the way of you enjoying your trip to the fullest. Here are seven ways you can deal with your periods without spoiling your vacation.
[twl_embed link="https://www.instagram.com/p/B08sN_TAKhf/"]
1. Plan Your Travel Activities Accordingly
Travelling is all about indulging in fun and adventurous activities. But once you get your periods, your adventure trip can turn into a disaster. There's no way to avoid it but you can always plan ahead. Keep a track of your period dates, preferably with a period tracking app, and when planning your trip, make sure to keep activities such as swimming, camping and climbing for days when you're not on your period.
2. Hit The Gym
Who'd ever exercise on a vacation? It's your only time off! But if you want to stay unaffected by periods and keep those cramps at bay, dedicating a few hours to some light exercises, especially yoga, can save your day. Exercise is known to reduce menstrual symptoms such as lessen the cramps and ease period pains. If you can't go to the gym, just try walking around. You'll get to explore the city and keep the cramps away!
3. Research Product Options Before You Travel
A variety of period products are available these days, all according to everyone's preferences. Even if you pack your products with you, you may run out and need extra. To avoid the stress of not being able to find the product of your choice, research about the menstrual products common and easily available in the city you're travelling to. While tampons are more popular in the Western world, both tampons and pads should be readily available everywhere.
4. Keep An Emergency Period Kit Handy
We're the type to always have a period kit – pads/tampons and painkillers – handy in our bags. But when you're traveling and constantly switching and packing bags, you're more likely to forget. Throw in some pads or tampons, plastic bags and a mini-heating pad in your emergency period kit and have one in whichever bags you're taking. Trust us, whether you're heading out for a long day of exploring or off on a road trip, an emergency period kit is a saviour.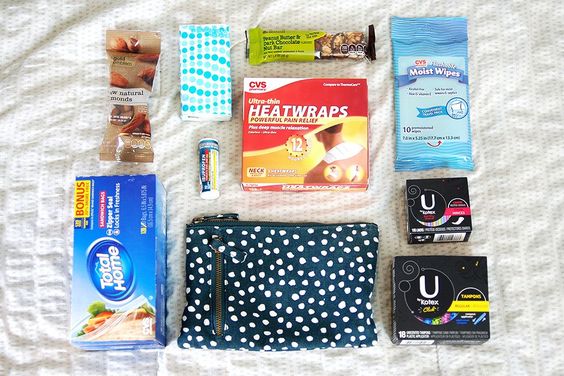 5. Consider A Menstrual Cup
In case you're in a fix of choosing a travel-friendly menstrual product, invest in a menstrual cup. The idea of using a menstrual cup may seem intimidating, but it's worth a shot, especially when you're travelling. They last far longer than tampons or pads, and when inserted correctly, they minimise the chances of leakage. This way you'll worry less about changing your tampon or pad and enjoy your trip. But do try on a menstrual cup before you travel; trying on a new product while on vacations is not a good idea so give it shot before you head out!
6. Wear Comfortable Clothes
Wearing comfy clothes is the best way to feel relaxed while on your periods. When packing for your trip, don't forget to pick some outfits keeping your menstruation days in mind. Loose trousers, yoga pants, loose fitting tops and maxi dresses paired with comfy shoes can make for a perfect outfit when you're busy wandering. When the weather is hot and sweaty, avoid wearing skinny jeans while menstruating, as it can increase the chances of developing yeast infection. And don't forget to pack your period underwear – you know, the not-so-fancy ones that are reserved for your period!
[twl_embed link="https://www.instagram.com/p/Byki0Z4nDUr/"]