We may be living in 2019 but some people – especially those who dictate how curvy girls should dress – seem to be living in the 1800s. No one – I repeat, no one – should tell you what you can and cannot wear! If you're sick of unwanted fashion advice, you've come to the right place. Here are five medieval fashion rules that need to be broken!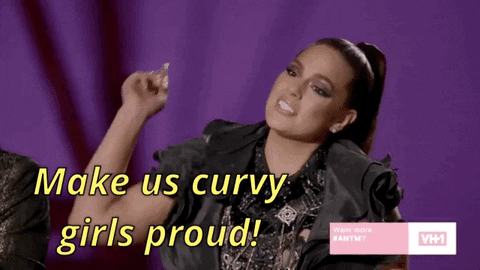 1. Horizontal Stripes Are A Big No-No
It's something we've always heard: horizontal stripes make you look bigger! But don't be afraid to break this rule. Wear your stripes, vertical or horizontal, loud and proud. A pin-stripe blazer or skirt is chic and makes you feel like a force to be reckoned with!
[twl_embed link="https://www.instagram.com/p/BmynLO0AXFw/"]
2. Peplum Tops Are Not For You
Not just peplum, but anything that gathers around the waist is thought to be a no-go zone for curvy girls. But who cares what people have to say? Peplum actually highlights your body shape, and is a great choice for any girl who'd like to accentuate her curves. The next time anyone judges you for wearing a peplum top – ignore it!
[twl_embed link="https://www.instagram.com/p/BmocpSsAh9N/"]
3. Never Go For Printed Bottoms
Confidence is all you need to rock any outfit, including prints! And with all the chic, printed separates in the market today, you can't pass on this trend. Pair printed bottoms with a solid colour tee for a très chic look. After all, it's not what you wear, but how you wear it!
[twl_embed link="https://www.instagram.com/p/BnvfkvpnqLp/"]
4. Stay Away From Stilettos
No one has the right to keep a girl away from her heels! Stilettos add that extra oomph to whichever outfit you pair them with – they're sexy, add some height and elongate your legs. So make sure you rummage through your closet and find your favourite pair for a night around town!
[twl_embed link="https://www.instagram.com/p/BsEABJ7nM1A/"]
5. Maxi Dresses Make You Look Bigger
Maxi dresses look chic and comfortable in every season. And they're a must in Pakistan's heat – they're breezy, comfy and you can dress them up or down! Shut the naysayers up by donning a solid colour maxi dress – a summery white would be our personal favourite pick. Cinch the waist with a belt to show off those curves, and complete the look with a pair of sneakers and statement earrings.
[twl_embed link="https://www.instagram.com/p/BizIJ7klDrW/"]
For more tips Hareem Farooq follows, watch the video below: