Embracing your body is an integral step to self-love. No matter what your size, it's more important to feel beautiful from the inside – and scientifically speaking, one way to achieve that is by dressing to impress. Instead of squishing yourself into clothes that aren't made for you, thinking there are no other options, why not create a wardrobe that works for you. For every plus-sized woman, we've lined up a list of essentials that will make getting dressed easy, convenient, stress-free and, dare we say, fun!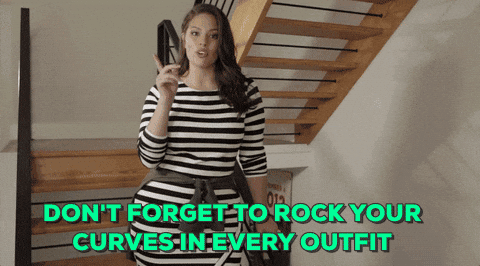 A-Team
An A-line dress will give your body shape and accentuate your curves. Add a belt into the mix which will help define the smallest part of your figure and create the illusion of a waistline. Splash has the perfect dress that's easy, breezy for the summer.
Fit Like A Glove
Dark to medium washes look best on curvy figures because they give the illusion of elongated legs and tend to be more slenderizing. These pair of stretch denim jeans from Next are perfect when it comes to reliable denim. Live in them all day, everyday!
A Scarf For All Seasons
Sapphire's silk scarf is light enough to wear in the summer and comfortable enough to sport even as the weather gets cooler. A long scarf will help elongate the body while minimizing the amount of fabric around the neck and face. It also happens to be the perfect cover-up on days when you're feeling a little bloated and need some help hiding the evidence.
Befriend White
We've all heard that white isn't the most slimming shade on the colour wheel. But, if you ask us, white is a classic that can be worn with anything – no matter what your style, and there's no way we're giving up on it that easily. The trick here is to choose a blouse that works for your body and style it to perfection. This simple tunic from Generation can be worn under a blazer, or make it a monochrome look with a pair of white pants.
Button Up
You can never go wrong with a classic button-down. It can act as a sleek stand-alone top for both casual or work wear. You can even use it as the foundation for a more layered look. While they're a staple piece in anyone's closet, finding the right one can sometimes be a challenge. Mango's pastel top is a perfect pick for the season, it'll keep you cool and comfortable.
A Kurta To Rely On
Every desi girl needs a kurta to rely on, and this embellished kurta from Afsaneh will get you through everything from family gatherings to festive dinners. It's loose and airy, so you won't have to worry about the fit while you enjoy the party and food. And the angharka style will ensure it'll be in fashion for years to come.
Camisole Control
Camisoles give you that extra help which is a total game changer for any plus-size girl. Losha's waist-shaper will easily work under any outfit and give your curves the perfect shape you desire. Plus we hear – they're super comfortable!
Secret Shaper
Shapewear is a must-have! And for good reason: they suck it all in (so you can breathe), minimize lumps and bumps, create a smooth foundation for your clothing, and make you look slender. This body-shaper on Daraz targets both thighs as well as the waist and stomach area, which is exactly what the doctor ordered. Three problem areas, one pair of spanx!