It's something about this time of year that makes us feel ready for a change – maybe it's got something to do with spring, the new year, and the school year coming to a close. Everything is full of possibilities, and we're practically reverberating with excitement! The easiest thing to play with always our appearance, and haircuts are the most semi permanent change we can think of. Pinterest is full of inspiration, but  it's easy to get confused. Lucky for you, we compiled our favourite new haircut ideas for you. Which one are you experimenting with next?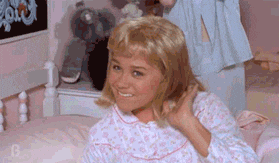 Curtain Fringe
The curtain fringe is here to stay! The tapered, mysterious, and long look works with every length and texture. Experts suggest that this growing trend of textured bangs will become the most popular haircut amongst young women this year. The cut can be easily styled and is versatile to sport. It's a low commitment look for days when you're too lazy to put in too much effort.
[twl_embed link="https://www.instagram.com/p/BbW7u1gAe9D/?taken-by=violette_fr"]
Jaw-Length Bob
This short length bob is a striking look, and not for the faint of heart. If you're willing to take the plunge, it's an extremely flattering style. Whether your inspiration is the slicked back bob or a more grungey vibe, this bold hairstyle is reminiscent of the eccentric 90s.
[twl_embed link="https://www.instagram.com/p/BbYP3rfFMWk/?taken-by=cwoodhair"]
Soft, Centre Parted Curls
If your curls are well defined and textured, use a little mouse to relax them – that's the only real requirement for this haircut! You'll be set to go. It's a very feminine look that defines the outline of your face. We highly recommend it!
[twl_embed link="https://www.instagram.com/p/BftzOMOhXvZ/?hl=en&taken-by=curly.azahara"]
Mid Length Cuts
Long, floor length hair was a favourite of the past generation – but we've moved on. Mid length brings more attitude, power and energy to your overall persona. Whether you're blessed with curly locks or sleek straight hair, this simple, versatile style is easy to pull off.
[twl_embed link="https://www.instagram.com/p/BZ4NAZLF0vX/?utm_source=ig_embed"]
Loose Braided Crown
This might seem daunting, but trust us: it's the secret recipe for turning bad hair days into good ones. The first step is using a tong along the length of your hair, grab a two-inch wide part from the front and separate it in half. Then start braiding along the two sides of your head. Loosen the plaits and pin it behind your head. Easy!
[twl_embed link="https://www.instagram.com/p/BixuOycHpEF/"]