There's one boring fashion rule that people cling to relentlessly when in doubt: monochrome. When done well, it looks fantastic. When done too much, it looks boring and safe. Picking different shades and colour combinations is a risk, but matching your pants with your shirt with your bag with your makeup is the exact opposite. The point of fashion is to reach outside of your comfort zone, or at least test the waters. We put together some unusual colour combinations for you to try — trust us, they're your ticket to style stardom.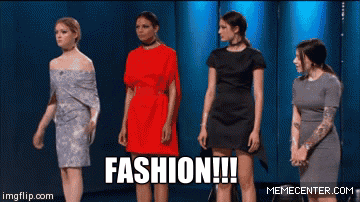 1. Red And Pink
Pink and red may seem too bright or similar to pair together, but they actually look surprisingly complementary. Red pants and a blush pink shirt, or a blush pink shirt with dark red heels could be a stellar look to wear for a night out with your friends. Keep your jewellery simple though, or you could ending up looking like a christmas tree.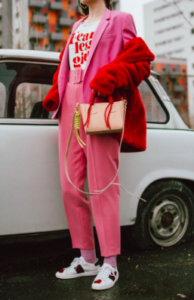 2. Pale Blue And Navy Blue
These two cool tones, pale blue and navy, are rarely worn together. The common conception is that they wash each other out, but when styled properly with the right shoes and accessories, this colour combination can be extremely feminine and powerful. It's perfect for date night or a work day outfit, so you can invest in a bunch of separate items and use them for multiple occasions! 
3. Maroon And Blue
Sounds a little Spiderman-esque, but don't let that throw you off — it's actual an underrated colour combination. Layering a blue blazer over a maroon shirt is the type of outfit to make you look put together, ready for a day of adulting. Could be potentially a little experimental, but that's what your style should be all about.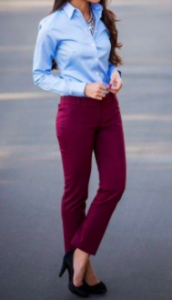 4. Red And Violet
Opt for a quirky colour combination like red and violet to let your personality shine! This combination isn't for the faint hearted, though. We would only recommend you to try it if you're brave enough for the challenge, and confident enough to pull it off!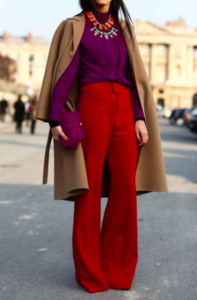 5. Yellow And Emerald Green
This colour combination is a little reminiscent of mehndis, but you can rock these colours in a cool, modern way too. Go for a yellow top with emerald statement earrings for a bright, stylish look.