With the new year at our doorstep, we're all contemplating the state of our wardrobe — what to keep, what to give away, and what new must-haves we need to add. Some people might call it self indulgent, but investing in our style gives us more confidence. While wearing the right clothes we carry ourselves taller because we feel better. Who can say that's a bad thing? We compiled the top 5 style trends taking over both locally and abroad. These designs and cuts are easily available everywhere from Khaadi to Ideas, or even better, can be altered to fit the next outfit you ask your tailor to stitch together for you! We're not a fan of fads, but adding a touch of these soon-to-be popular styles to your everyday wear will have you looking put together with little effort. Let's embrace some of the trends which are set to be all the rage on the global stage for fashion throughout 2019. 
From New York to Lahore; from casual wear to formal dressing, feel free to endorse and adorn the trend of your choice.
1. A Royal Affair
If your style of dressing tends to be dramatic and feminine, embrace your inner regality and effortlessly become the centre of attention with these additions. Frills, layers, or lace can add panache to any look. This winter and spring we're definitely on the look out for bold, wide cuts, and flowier silhouettes. Big sleeves can be worn during both the winter and summer months. They also incorporate a bit of retro glamour into the otherwise Disney-like fabrics we're expecting to see on the more traditional, feminine girls out there. 
2.
Humble hues
Are you someone who cautiously wears colour? Do you hesitate around loud and quirky tops?  If you prefer sticking to monochrome colour palettes and clean lines, you can count your lucky stars for the shift in trends this season. Simple is gold! Neutral tones are a classic, and we're expecting to see a surge in outfits that range in the sand, tan, cream, and khaki tones. It never hurts to add a pop of colour, but if that's not your thing, stick to these calming colours and style them in western or eastern wear.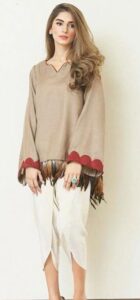 3. The Golden Sunshine
This happy and vibrant colour has a bad rep — people think it's hard to pull off, but that couldn't be further from the truth. Say hello to yellow again: we want you to be best friends. It's the colour of lemons, marigolds, butter and sunshine. It comes in an infinite number of shades to match your skin tone. Loud, neon yellows look the best against darker skin tones. If you're lighter, try opting for a more muted mustard yellow. Bright colours can make lighter skin tones look washed out sometimes, and this is especially true with yellow. Yellow is that versatile colour which can make you stand out, or just blend in perfectly. Either way, it'll add some natural glow whenever you wear it. This spring bring yellow to your wardrobes.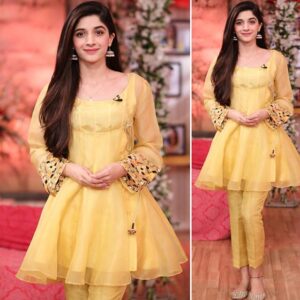 4. Classic Polka Dots
The almighty polka dot is the one trend that can't be put down — it makes a comeback every few years. It was huge in 2018, and we predict it'll stay the course for a large part of 2019 as well. Pair it with some chunky accessories, or plain separates, and you're good to go. It's the kind of print that can be a bold style statement or a comfortable classic depending on how you style it. 
5. Throwback Thursday
2018 definitely saw a return to retro styles with more structured outfits, and whole collections geared towards the nostalgia and kitsch of the 80s, 70s, and 60s. Going into 2019, we see this trend filtering down into all kinds of casual wear. Puffed shoulders, for example, can lend a very elegant look to your outfit without actually having to put in a lot of effort. It's a style you can pull off in both western and eastern wear. Ruffled and bat sleeves are going to take a bit of a break for now, as we welcome in shoulder pads, puffed shoulders, and chunkier fits. 
6. Long Flowy Shirts
In 2019, we're leaving behind structured silhouettes and off the shoulder necklines. This year, opt for flared kameezein and angarkha styles for that feminine, yet sleek look. Pair with slim, tailored pants and skinny heels to tie the whole look together!