We are all guilty of spending way too much time binge watching shows, but because of the social distance we are (hopefully) implementing, it's on overdrive! If you feel like you're in desperate need for show recommendations, we've got you covered. Scroll down to see all the shows Mashion staffers are binge watching right now. All you need to do is kick back, switch that screen on and momentarily take a break from refreshing your coronavirus updates tab: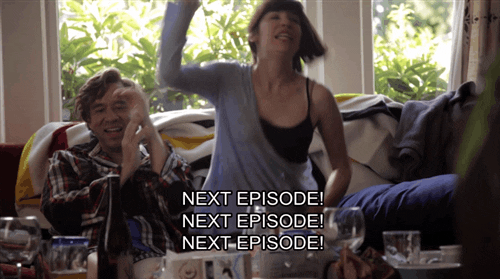 Glow Up
Zoha Naqvi – Social Media Manager
Glow Up is a show in which 10 makeup artists from all over the UK compete in different challenges. The looks they create are editorial, often involving prosthetics, face paint, gore, and more. If you're someone that loves makeup and finds it fascinating to watch makeup transformations like our social media manager does, this is the show for you.
Favourite thing about this show? 
"I love how this makeup competition is judged by two of the top names in the makeup industry — Valgarland (LOreal Paris Global Makeup Director) and Dominic Skinner (Global Senior Artist at MAC Cosmetics). As a makeup enthusiast it's really interesting to see their perspective on different kinds of makeup applications. Can't wait for season 2!"
What's different about this show?
"The fact that it's a makeup artistry competition is in itself the biggest difference because there are hardly any out there."
Bojack Horseman
Manizeh Karim – Content 
Bojack Horseman is an animated show for adults that explores themes of depression, sexism, addiction, racism and sexuality, amongst others. It has six seasons and has received universal praise and several awards. It's dark, yet humorous at the same time – and just the right amount of both.
What's your favourite thing about the show?
'This might be one of my favourite shows ever, I've watched it a couple of times. The last season just ended so I binged the whole show again. It taps into a side of existence that we all need to be in touch with.'
What makes this show different?
'The way such intense issues are approached and discussed!'
Taj Mahal 1989
Arham Ikram – Video Producer
This is a show about love – whether it's through marriage, friendship or a relationship and as the title suggests, is based in the year 1989, in Lucknow.
Favourite thing about the show? 
'Cinematography – it's BEAUTIFULLY shot! The colour grading is also very subtle and clean and I love that.'
What's different about the show?
'The character development in this show is remarkable, as well as unusual – something you'll understand once you see it. I think it's very rare to find well written shows on Netflix, but this just hit the spot for me.'
Next In Fashion
Maryam Ansari – Content Manager 
If you're looking for a wholesome show about fashion and creating it, this is it. Hosted by Tan France and Alexa Chung, with contestants from all around the world, this show makes you want to keep pressing the 'next episode' button on netflix. The contestants are given only 2 days for every challenge to create a masterpiece and the winner of the whole thing gets $250, 000, plus a chance to have their line on Net-A-Porter which is huge!
Favourite thing about the show? 
'TAN FRANCE. I mean, there's a lot to love. But Tan, along with Alexa, just made me fall in love with the show instantly. In fact, I initially only watched it because Tan France was hosting it. But while watching the show, I came to like so many of the contestants too, especially Daniel in this season. He's so special and talented and I can't wait to see everything he does.'
What's different about the show?
'There's literally no bad blood and I love that! Most shows that involve people competing with one another have drama or fights, especially in a situation like the one Next In Fashion creates where they team up the contestants for the first few challenges. But everyone in this show has so much love and respect for one another and it's so refreshing to see!'
The Crown
Mustafain Bokhary – Marketing At Mashion Studio
If you love your British history and are fascinated by the monarchy, watch this. It's about the challenges Queen Elizabeth has faced during the different phases of her rule, and offers an insight behind the palace walls. However, just remember, the writers do use their creative licence to dramatise it for you!
Favourite thing about the show?
'The character of Princess Margaret – she's painfully vulnerable, undaunted and passionate.'
What's different about the show?
'The royals have always intrigued me and so have historical dramas; the crown is a perfect combination of both!'
Elite
Anam Sadick – Marketing Manager 
Elite is a Spanish thriller that follows a group of teens involved in some not-so-teen-friendly activities. There's clashes between the rich and working class, there's murder and there's romance. It's a really gripping and mature show and doesn't feel like yet another teen show AT ALL.
Favourite thing about the show?
'The Cast – they all have such amazing chemistry with each other and the characters are really well developed! Each character has a super important role to play in the show and the actors portray them brilliantly!'
What's different about the show?
'This show is like an elevated, cultured version of Pretty Little Liars or Gossip Girl. It's also very progressive and diverse – you have people of colour, people from different religions, people from different social backgrounds and people with different sexual orientations. And it's not exploitive in any way.'
The Good Place
Maha Rizvi – Managing Editor 
The Good Place is one of those feel-good sitcoms about a woman who is morally corrupt, but finds herself in heaven.
Favourite thing about the show?
'It's lighthearted! Honestly such a getaway from what's going on in the world right now. It also features Jameela Jamil who I love!'
Is there anything that makes this show different? 
'The show is essentially about the afterlife, you're shown a 'good place' a 'bad place' and even a 'medium place' — and every place is as literal as the word. I also think after-life shows tend to get a little preachy, this one is a true comedy!'
Chef's Table
Shahbano Sheikh – Social Media
Chef's Table follows a documentary style featuring a new, renowned chef every episode. Their cuisine, culture and style of cooking is explored while you learn more insight into the individual and his/story. If you love food, cooking, or just a good watch, don't ignore this one!
Favourite thing about the show?
'The vast perspective it gives in regards to global cuisine. All the featured chefs on the show have carved out their spaces using unique styles of cookery with local ingredients. The downside however is that there's a lot of pretty food imagery – it makes you feel bad about your cheeto-dust fingers.'
Is there anything that makes this show different? 
'This show makes one question the core essence of food and how it's a central theme in all our lives. Is food and cooking only a source of nutrition? Is food a science? Can it be art? Are our current food consumption patterns sustainable?
It's a wholesome show to watch and it's totally family friendly.'