We are all guilty of spending way too much time watching netflix. Or maybe you're guilty of watching it too less (how!?). Either way, if you need help picking the next show to binge watch – we've got you covered! Scroll down to see all the shows Mashion staffers are  loving right now: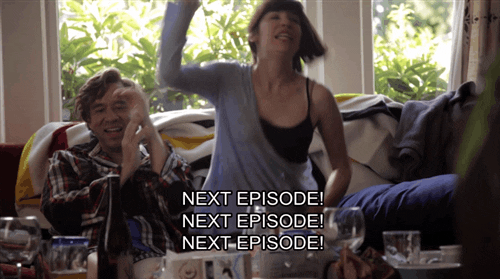 Unbelievable
Maha Rizvi – Managing Editor 
Unbelievable is based on a true story about a series of rapes done and the two female detectives who follow the evidence to try and catch the rapist.
Favourite thing about the show?
"I love shows based on true events and this has that! It's such a heartbreaking story of 5 women who were raped, but the show actually explains why a lot of rape cases go unsolved or unreported. It also shows how one serial rapist was caught. It's a great true story of 2 female cops who worked in different districts and came together to work on these cases."
Is there anything that makes this show different? 
"For starters, it's a true story. Also the way they've showcased the topic is very real. It teaches you a lot and creates awareness of how every victim deals with the trauma differently."
Queer Eye
Anam Sadick – Marketing Manager 
Queer Eye is a reality tv show. The fab five go to different people's houses and give individuals a makeover that isn't just external, but that teaches them how to build their self confidence. It's a wholesome show about loving yourself and in doing so, learning to love the people around you.
Favourite thing about the show?
"Tan France & JVN"
What's different about this show? 
'The show is just such a breath of fresh air. It shows you that even people with different opinions CAN come together and find respect. Every episode makes me cry, but in a good way. And the Fab Five are truly FABULOUS!"
Atypical
Maryam Ansari – Content Editor
Atypical is a show about a teenager on the autism spectrum. As he navigates around school, romance and family, you are taken along the journey. His witty personality is incredibly strong throughout the show, as is of the other characters such as his younger, but protective sister. It's the show our content editor, Maryam Ansari is currently binge watching:
Favourite thing about the show? 
"Everything! The characters, the storyline – it's a great show to binge watch! It's not so heavy that you need breaks between episodes, but it keeps you hooked enough to watch episode after episode. The characters are also authentic and honest in a manner that not many shows are."
What's different about the show?
"It's such a refreshing portrayal of autism. It addresses it in a manner that proves you can lead a perfectly normal life despite having autism. Sam Gardner is not only smart, but hilarious, sensitive and relatable. The show has such a positive outlook and while Sam himself isn't played by someone with autism, the peer group that he looks to for support in season 2 onwards is played by people with autism, which I think is great."
Friends
Zoha Naqvi – Social Media Manager
Friends, if you don't already know, is a sitcom about six friends who live in New York. They go through all kinds of experiences together – love, heartbreak, divorce, jobs, children etc. It's a show about friendship above all else and our social media manager, Zoha Naqvi, has been hooked on it:
Favourite thing about this show? 
I've been watching it for a while now and whatever mood I am in, it makes it better and lifts up my spirits. All the characters are funny and real in their own unique way.
What's different about the show?
It's a classic and timeless sitcom. It ended over a decade ago, but it's still so relatable to so many people.
Green Eggs And Ham
Almas Sheikh – Video Producer
Green eggs and ham is about friendship. Sam helps Guy, who has given up on his dream, believe in himself.
Favourite thing about the show? 
It's sweet and nice!
What's different about this show?
It's about a character who has given up and how his friend is helping him out in believing in himself.
Elite
Hassaan Khan – Co-founder
Elite is a spanish show about three students with working class backgrounds who have received a scholarship to an elite high school. As they try to fit in, a series of events take place that ultimately lead to a murder. Our co-founder, Hassaan Khan, couldn't stop watching it:
Favourite thing about the show? 
"Money Heist cast members!"
What's different about the show?
"It's cool to see foreign shows pick up in the global market. Hopefully, we can produce something similar in the future too."
High Seas
High Seas is a spanish television show about two sisters who discover family secrets after a series of mysterious deaths occurred on a luxury ship that was going from Spain to Brazil in the 1940's. Our favourite, Seher Hafeez, loved the show:
Favourite thing about the show?
"It's old school and set in the 1940's on a ship. It has titanic feels and is murder mystery (very Agatha Christie)."
What's different about the show?
"There are lots of twists and turns, and lots of sub plots and characters so it keeps you hooked constantly!"