An old, but gold trend has made a powerful comeback into the fashion world and is totally changing the style game. Yes, we're talking about the cool Hawaiian print. You definitely don't have to be in Hawaii to rock this trend – it's been making waves all around the globe! We do admit though that it can be difficult to style appropriately and so, to inspire you, we've gathered 5 ways you can wear the Hawaiian print: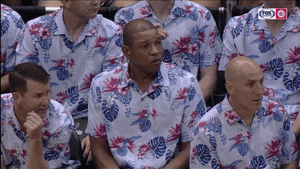 1. Pair A Hawaiian Print Shirt With Jeans
If you want to incorporate this trend in your outfit, but aren't ready to fully commit to it just yet, dress it down by tucking it into jeans. To be specific, wide leg jeans – you'll still be able to make a statement!
2. Hawaiian Print Trousers
A simple tee never goes out of fashion, but there are several ways to style it in line with the latest trends. Wear yours with a pair of Hawaiian print trousers and you'll be surprised at how easily your outfit turns trendy and chic!
3. Go For A Monochrome Look
The idea of wearing print head to toe can be daunting, but like most things, the Hawaiian print looks great in monochrome. It ensures a safe, but fashionable way to flaunt the latest trend!
4. Be Daring And Wear A Jumpsuit
If you're someone that isn't afraid to be bold and risky with their fashion, a Hawaiian print jumpsuit is just the thing for you to wear on your next night out with the girls! You'll be sure to stand out in the crowd and turn a few heads.
5. Flaunt It As An Accessory
If you aren't ready just yet to fully experiment with the bold print and colours, add it to your look through your accessories. A Hawaiian print scarf can be worn over your head, around your shoulders, twisted around your bag handle – the ways are endless! You can even include it to your outfit through a belt or a bag; it's all about wearing it in whatever way makes you feel comfortable!