We had the opportunity to have a chat with an uber talented and self taught artist, Zainab Anwar, based in Mississauga, Canada. Zainab is a 20 year old student, pursuing international affairs at a Canadain university, and first got into art at home, by recreating other works or observing photographs of people. She finds art therapeutic and wants to use it to represent women and culture and is extremely consistent and passionate about honing her craft. Here's an excerpt from the conversation.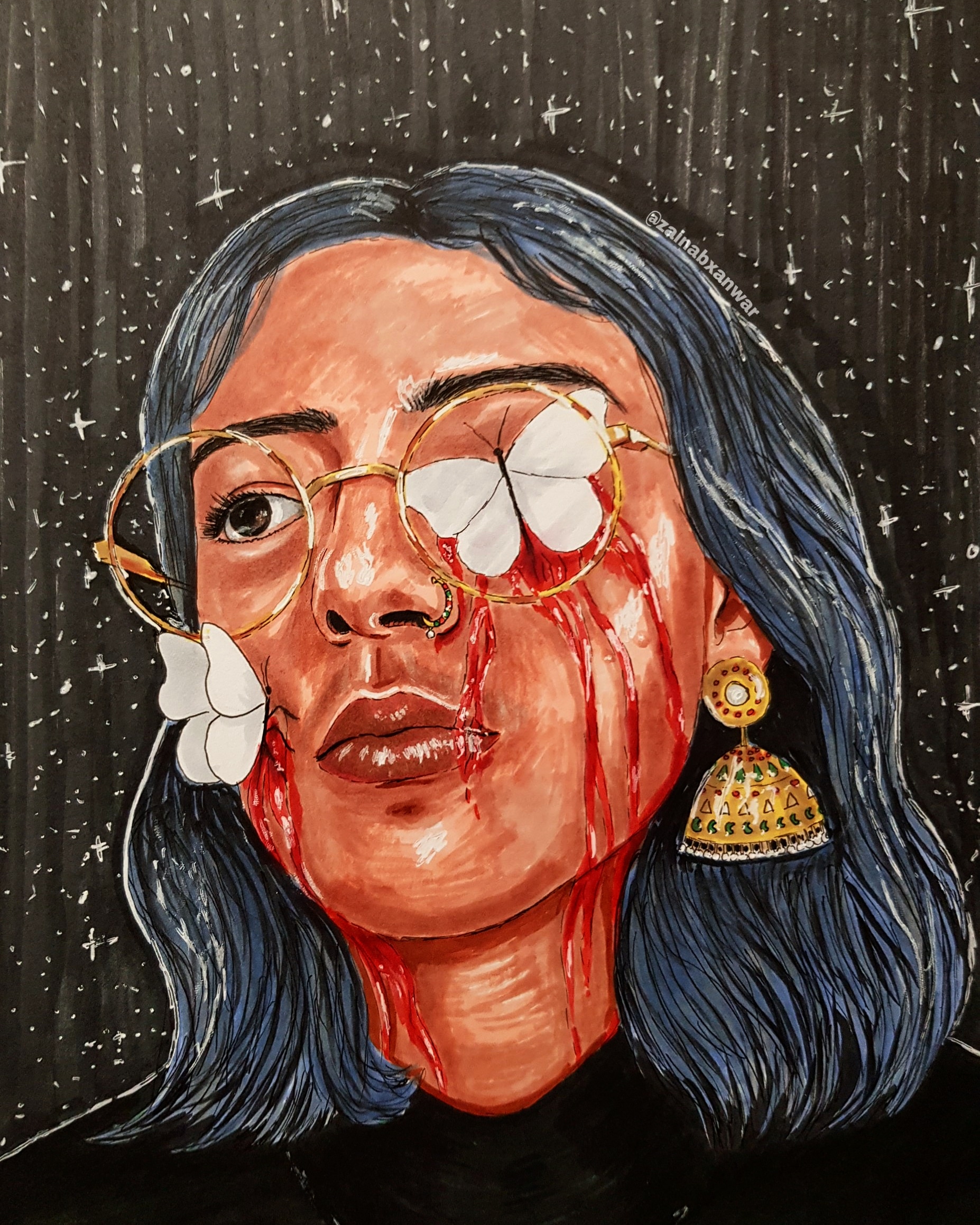 پیار کا درد
I often draw butterflies to represent healing or love, In this case the butterflies show relationships with people that can often cause pain which is represented by the blood flow. Although the butterflies are beautiful, they are slowly eating her up.
Medium: Markers
1. What themes do you work on?
The main themes of my work are primarily South Asian women, but also other women of colour. I try making artwork on trauma and have started making artwork related to mental health. I also ocasionally use photographes of myself to explore my identity and beauty standards. In my recent internship at Shehri Pakistan, I worked on a project relating to freedom of speech by making digital illustrations of the scenes and characters for an animation.
2. How does your work comment on women and culture?
I wanted to normalise and bring forth more artwork with coloured women because when I started drawing, I couldn't find many references of coloured women without using specific keywords. I wanted to represent more cultures with my artwork and be an artist everyone could relate to. I want to bring forth stories of women where they are not just a pretty face. A lot of artwork through the years have been of a specific type of woman and I wanted to change that.
Title: Freedom | آزادی|

Description: (Artwork focusing on the violence against women during independence) -Women's bodies are often used as a target during times of conflict. During the Indian partition, women on either sides were raped, kidnapped and forcibly converted to the attacker's religion. Women would be publically raped and many would commit suicide to save their honour. – It is the idea of tainting the other side's women and taking away the community's respect. Violation of women's bodies is such a delicate issue attached with so much shame that the effect is so extensive. 
Medium: Markers
3. Who are your biggest influences?
In terms of non-artists, it's different female figures in history. In terms of art, I think I take a lot of influence from Frida Kahlo. When I first saw her art, I saw the possibility of conveying what I wanted to through my art. Her artwork is bold and unapologetic, and speaks a lot about her pain too.
4.
How do you cultivate a collector/buyer base?
I'm mainly a social media artist. In this day and age, social media has made art more accessible and allows a lot of people to start their work without having connections to an elite club. For someone like me, who does not go to an art school, buyer base is anyone who is on social media. Anyone interested in my work can contact me through zainabxanwar@gmail.com or my Instagram. I mainly sell my work on Redbubble.com as zainabxanwar.
5. Which current art world trends are you following?
I don't follow any specific trends; I choose different art styles and mediums depending on what message I want to convey.
بربري Barbarian
Description: Portrait of Arab rapper Mona Hayder. Her songs deal with stereotypes of Arab and Muslim women and how it is believed that they have no autonomy.
6. What kind of art do you most identify with?
Portraits of women and recently, I've taken an interest in conceptual illustrations. I identify more with stories and feelings; something such as political art that people can relate to.
7. Professionally, what's your goal? Where do you see yourself in the next 3-5 years?
I would like to reach more people via themed exhibitions and public art with messages, perhaps settled in Pakistan and enter the art world in Canada professionally. I hope my art is accessible to common people and can help those who relate to it and inspire more women to create artwork of their own stories. Title: Nirbhaya Leila
Description: Nirbhaya is a Hindi female word for fearless; I first heard this word in reference to the victim of the 2012 gang rape case in Delhi. Leila is an Urdu/Persian female name derived from the word "Leil" meaning night, which has the same pronunciation as knight in English. Leila is a popular figure from the Romeo and Juliet of the East "Leila Majnun", who is forcibly married off. The artwork itself is inspired by female figures in South Asian history; mainly, Razia Sultana and Laxmibai. Razia Sultana was the only female ruler of the Delhi Sultanate. Laxmibai was a queen who fought against the British during the Indian Rebellion.
Medium: Acrylic Painting
8. What inspired you to start?
I was really quiet growing up and didn't know how to express myself. When I was in middle school and was going through a difficult time, I find solace in poetry. After that, I discovered painting and in high school, I started making my original portraits and had gotten a lot better at expressing myself through different mediums. I can't do much to help those going through injustice or pain but I want to be able to be a part of their fight by creating artwork that they can relate to or appreciate.
9. What is the hardest part of creating art?
The process of getting better can be quite discouraging initially. Not producing quality work can be frustrating and extremely hard. You feel like quitting quite often but continuous practice is the only cure to this misery.
Title: Healing
Description: The cage of the brain is a depiction of how mental illness might feel, with the butterflies representing the possibility of healing and creativity.
Medium: Digital