Bangs – it's really a love-hate relationship. It seems like the perfect idea at the time, but later…well, if you've had a bad haircut ever then you probably know what we're talking about. But don't worry, if you're not feeling your bangs, we have the solution for you.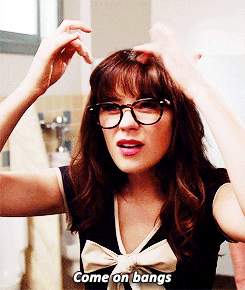 Styling Is Your Best Friend
If you're tired of just leaving your bangs the way they are, don't be afraid to style your hair. In fact, there are a multitude of options when it comes to styling your bangs! 
Braids
Braids are a great way to get that fringe out of your face. You can make two intricate french braids, a side braid, and if you want to leave your hair partially open, just braid the upper half! 
Use Some Product
Using products can be a fun way to try out new hairstyles and still have fun. If you want some volume and some oomph, use a brush to brush your bangs backward and apply some gel (or wax) through it to fix them in place with the rest of your hair. 
Or if you're feeling lazy another popular look is a slick back hairstyle or even a sleek centre parting. Use a hairspray or gel/wax like substance to style your hair into the desired look and voila! You're ready to go. 
If you're looking for a "messy" beachy look, find a texturising spray that works best for you; wet your hair, spray it onto your locks (including your bangs) and scrunch your hair with your hands. Once your hair is dry you'll be left with an effortless yet chic look, and your bangs will be out of the way too!
Accessories
Accessorising away your bangs can be a really fun way to change up your look. The first and probably most obvious tool would be a hairband. These days there are SO many different styles and colours to choose from, just take your pick. Plus there's no effort required for this one. 
Bobby pins and/or clips can be another easy way to keep your fringe away. Use some cute colourful clips to match your outfit, or keep it simple with some plain bobby pins.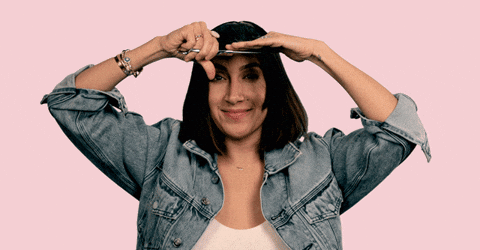 Be patient…Grow Them Out!
I know you probably don't want to hear this one, but let's be real – at some point you're just going to have to wait for them to grow out. Taking vitamins to encourage hair growth, or similar hair masks/oils to aid in the process can be helpful and equally nourishing for your hair. At the end of the day, enjoy this time because you're probably not thinking of getting bangs again. So make use of this hairstyle while it lasts and own it!