Some of us have way too much makeup to handle, while some of  us are on the go 24/7 and can only carry limited products. Depending on your daily circumstance, there are multiple ways that each of us store our makeup. Below are listed some makeup storing hacks and also some tips to avoid the damaging and quick ageing of your products, which can indeed be affected by your methods of storing: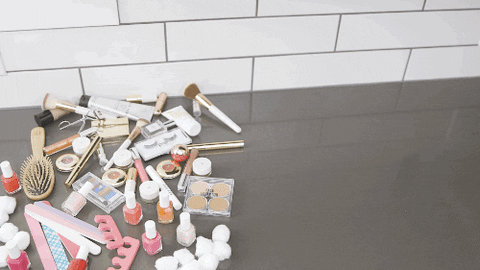 Don't Use Transparent Bags
Some of us buy them because they're cute, but there are no real upsides to buying transparent makeup bags. Yes, you'll be able to see your products but often their material makes them unsustainable. The transparency also makes them more prone to theft if your products are expensive. Lastly, as a result of their transparency, your makeup products could be more at risk to being exposed to  sunlight. If sunlight remains on makeup for even short periods of time, it makes your makeup far more likely to age and become ineffective, as the heat breaks down ingredient activity. Your concealer will hardly stay, and your mascara will easily stain. Choose thicker material bags, preferably in lighter colours to avoid this.
Keep Skincare Products In Cupboards And Cooler Temperatures
If you ensure that your skincare in particular is kept away from the heat, in  cupboards and on-the-go makeup bags with thicker material, the shelf-life of your products will extend for sure. This has benefits when it comes to applying your makeup too – it helps make your skin fresher, and thus makes the finish of your makeup look much better.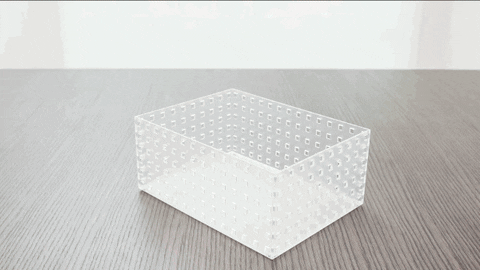 Pick Containers That Don't Overwhelm Your Space
When you're in a rush and you have exactly 6.5 minutes to do your skincare and makeup, you don't want to be struggling and reaching far for your most essential products.  Smaller and more compact container cases for your makeup are far more ideal than larger stack trays or drawers – leave these for hair products, hair accessories or for larger and less frequently used beauty products. 
Use Tall Containers For Tall Products
There is almost a visual science behind the aesthetics of container use for makeup! Visually, it is far more elegant to pick storage items in length and size that correlate with the size and length of your products. This will make your storage appear far more  moulded and give your space a precise and clean look. They are also practical and will make it so easy to just drop your brush in and get on with your day!
Use Ledges/Shelves To Display Your Products
The best part about this hack? The ledges that can beautifully display your nail polishes (or other beauty products of your choice, perhaps small skincare products), are so cheap and so easy to find! They can be found online (try to avoid amazon for sustainability reasons) in most vanity stores.
Adhesive Holders
Sometimes, we have too many products for our own good.  However, you must consider where and when you need products the most in your beauty routine. If you have more than one version of a product (i.e. two mascaras, two lip liners) keep one in your bedroom storage, and one in an adhesive container that you can use if you decide to get dressed up in your bathroom. Beauty is unpredictable – let yourself feel luxurious!
Layering With Double Containers
You'll need larger drawers to store your longer palettes and all kinds of beauty utensils. However, you don't want to open your drawer and witness a beauty catastrophe – you want tidiness, even if you perhaps use the products less. We've mentioned lengthy products previously, but long, clear containers are perfect for your drawers as well. If both your drawer and storage containers are  standardised in sizing, it will be easy to put your neat collection together.