At this point in 2020, WFH has gone beyond the new normal – can you even imagine a time when we didn't work from home? But because COVID isn't going away anytime soon (mask up!), WFH burnout can be a very real thing. Thankfully, working from home gives us the flexibility to surround ourselves with things that make the entire day a little bit better. Here are seven things that will make your WFH experience a little more fun!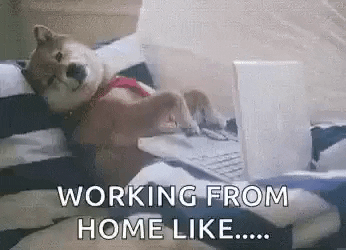 An Empowering Laptop Sleeve
Now that we're working from home, we don't always have our amazing work squad to remind us of just how awesome we are. That's why this laptop sleeve from Prisms & Paintbrushes is all you need to feel like a total Girl Boss! With this daily reminder, you'll be ready to take on the day like a total (you guessed it) boss!
A White Button Down
Even if you choose to keep your video on mute for you Zoom meetings, dressing up for WFH can actually make you feel a lot more productive! That's why we love this comfortable and simple button-down white tee from Outfitters. You'll feel put together and classy even if you're just lounging on your sofa!
A Quirky Mug
To make sure your sanity stays intact during WFH, caffeine is a must! Those 8 am Zoom check-ins won't happen on their own. To give yourself an extra boost of energy, opt for a quirky mug for your coffee/chai. Our favourite is this cute one from Kurachee (available at Serai), which clearly states our constant WFH mood!
Solid Separates
We have the perfect solution for all the times your boss unexpectedly wants to video conference – a comfortable pair of solid separates that are great for the house and for work! What's great about this khaddar outfit from Ideas Pret is that it can easily be worn to the office when WFH is over. Have faith, that day will come!
A Personalized Notebook
A notebook is a WFH essential – how else will you keep track of all the brilliant ideas you have throughout the day? We love the quality and detail Paper Mâché puts into their notebooks. You can even personalize them, whether with your own initials or with an empowering statement!
A Comfy Pair Of Jeans
It seems that sweatpants have become the go-to WFH attire, but all that makes us want to do is laze around. To make sure you actually get your work done while still being comfortable, put on a pair of jeans! Our go-to is this pair of high-waisted jeans from Genie and the fact that they're locally produced is just the icing on the cake!
A Cozy Blanket
Yes, we know that lazing around and working from your bed or couch is not the ideal WFH situation. But sometimes that's all you can muster up. For the days you just want to stay cozy and comfy, we recommend this plush blanket from The Linen Company. With winters well on their way, these will keep you snug and warm and ease your WFH woes!