There's no way we can ignore the glitziest trend of the season when talking about fashion! Sequins are all the rage these days – from Fashion Week to FPW, sequins took over runways worldwide and are being sported by fashionistas around the globe. So what are you waiting for? Scroll through these five ways to nail the hottest trend.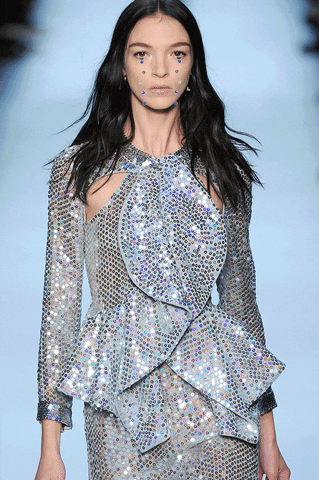 1. Sequinned Top
If you want to keep it casual, opting for a sequined top is the perfect choice. It's up to you whether you want to keep it monochrome or go colourful. You can either pair a sequined striped shirt or a sequined graphic tee with a plain skirt or pants for a chic look.
2. Shimmery Pants
Flarepants are having a big moment this year and nothing looks more stylish than pairing two of the hottest trends of the season together. Wear your shimmery flare pants with a plain tee to keep the focus on the pants. If being OTT doesn't scare you, don a sequined jumpsuit and go to town!
3. Glitzy Sequined Belt
Who said sequins are only for extravagant looks? You can also wear them in a minimal way. Style your subtle outfit with a shiny sequined belt and you're all ready to rock your friend's birthday party with a subtle statement!
4. Glittery Shoes
Glitzy shoes are all you need to keep your footwear game strong this season. For a casual look, don a pair of shimmery sneakers with jeans and for a more glamorous look, opt for bold glittery heels and sport them with a gorgeous dress!
5. Sparkly Blazers
Wear a plain top, pair it with jeans and layer it with a cool sparkly blazer to slay that street style look! Blazers are the perfect way to add some much-needed oomph to your otherwise simple look, and a sparkly blazer will take it to the next level!