The struggle of living in a small space is real. Luckily, all it takes are a few simple tricks to make even the tiniest of rooms appear more spacious. Before bringing in stuff to decorate your room, carefully plan how much space it will take up, and whether you really need it or not. Scroll down to read these five simple tips to transform your room forever.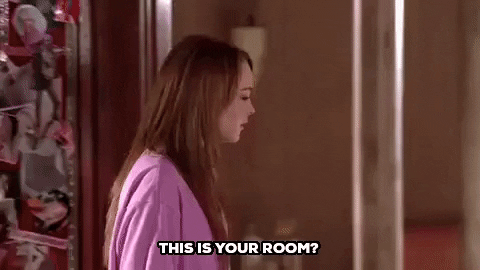 De-clutter
The most obvious step is de-cluttering, but it's also the most difficult. In order to properly organize your space you really need to get rid of everything extra. If you haven't used something in a year then it might be time to think about throwing it away.
Use The Same Shade For Walls And Curtains
Colour blocking makes your space appear congested. Keeping everything the same colour gives the illusion of a larger space. We know sticking to the same colour can get boring, so an easy way to do this without visual monotony would be to ensure your walls and curtains are the same colour, and coordinating the rest of the room after.
Go For A Light Colour Palette
Bright colours do look pretty, but they are not the best choices for small rooms. Light shades like neutrals, pastels, and white reflect more light which automatically helps to maximise space.
Get Multi-Functional Furniture
Basic furniture is absolutely necessary whether you have a large room or a small one. These can end up hoarding a lot of floor space, though. If bought smartly you can use single furniture for many purposes. For example, items like ottomans can serve as tables as well as seating. This will save you a crazy amount of space without sacrificing on aesthetic.
Add Mirrors And Lights
The darker the room the smaller it appears. Lights can make your space look roomier and the best way to let more light in is adding mirrors. Mirrors reflect both natural and artificial light, which instantly make your room look bigger.