Dressing up in glamorous clothes is one of the most exciting parts of going to a wedding. Finding the perfect shoes and accessories to pair with your outfit, dressing up for mehndis and dinners, and taking photographs with your friends and family – it's all part of the fun! If you haven't shopped for an outfit yet for any upcoming weddings, no need to worry– we've got you covered! Here's a list of 6 outfits from Ammara Khan's latest collection Iris, that would be perfect for your wardrobe.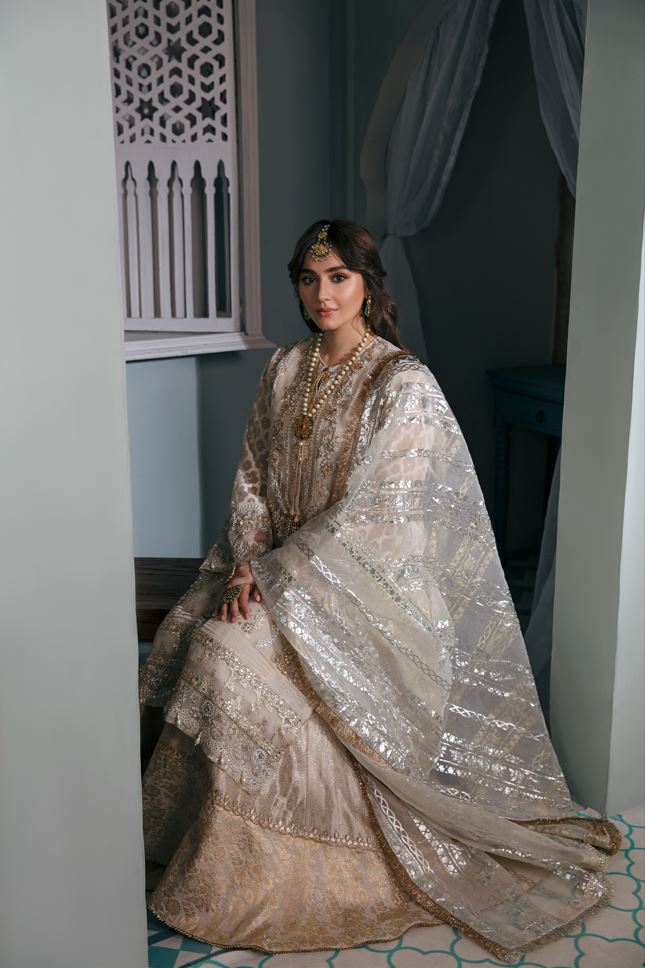 About The Collection
Ammara Khan's latest collection of beautiful new luxury formals have us obsessed! The exquisite drama celebrity Durefishan Saleem is the perfect muse, adding her charisma to the stunning campaign. Signature embellishment, classic silhouettes and the perfect colour palette, these designs will leave you spoilt for choice.
OxBlood Peshwas
An oxblood peshwas with ornate, antique gold embellishment all over the panels, sleeves, bodice and neckline. It comes with a specially designed Ammara Khan unique bronze colored 'panni' printed dupatta. Rich brocade borders add further luxe. The perfect outfit for those looking to make a grand statement.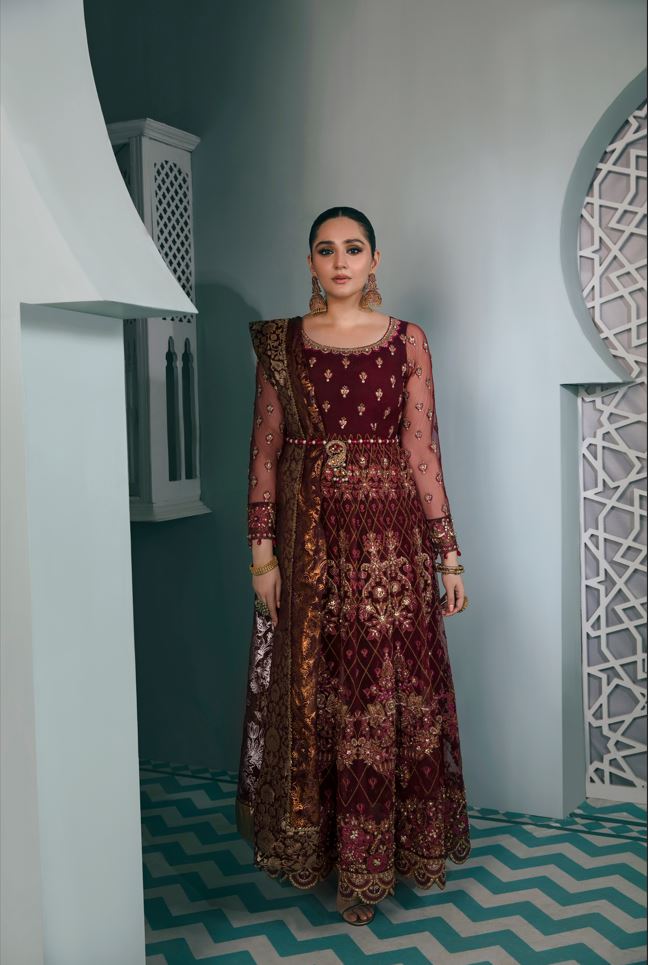 Ivory and Gold
A beautiful and artistic embroidered design in 'ganga-jamni' tones is fully hand embellished using 'zardozi', sequins, crystals and bead work. Delicate laces are used to further enhance the beauty of this design. Handmade jeweled tassles complete the neckline. The Sharara is taiored with rich jamawars of different patterns.
The Dupatta is a signature Ammara Khan design which forms the artwork for this 'panni' printed dupatta, finished off with delicate 'kirann' trims to add an old-worldly charm.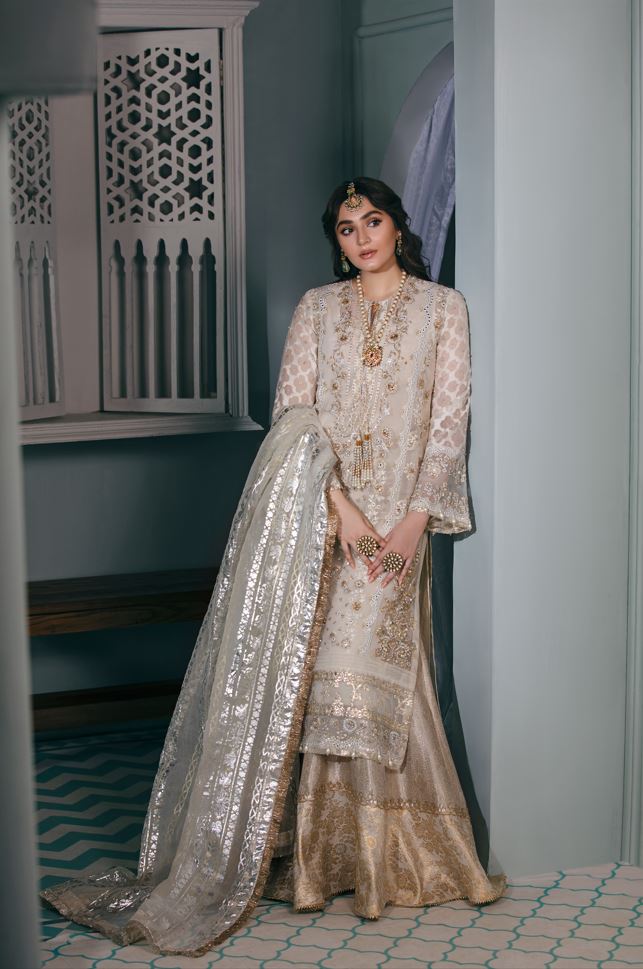 Sun-Kissed Gharara Set
A stunning play with colours and textures, this beautiful design is enhanced using 'gota' and 'zardozi' embellishment. A shorter silhouette is complimented with a classic 'gharara' with an embellished border on the 'gothe'. A super festive dupatta with a full 'zari jaal' with our signature designed gold 'panni' printed 'pallu' borders complete this beautiful design.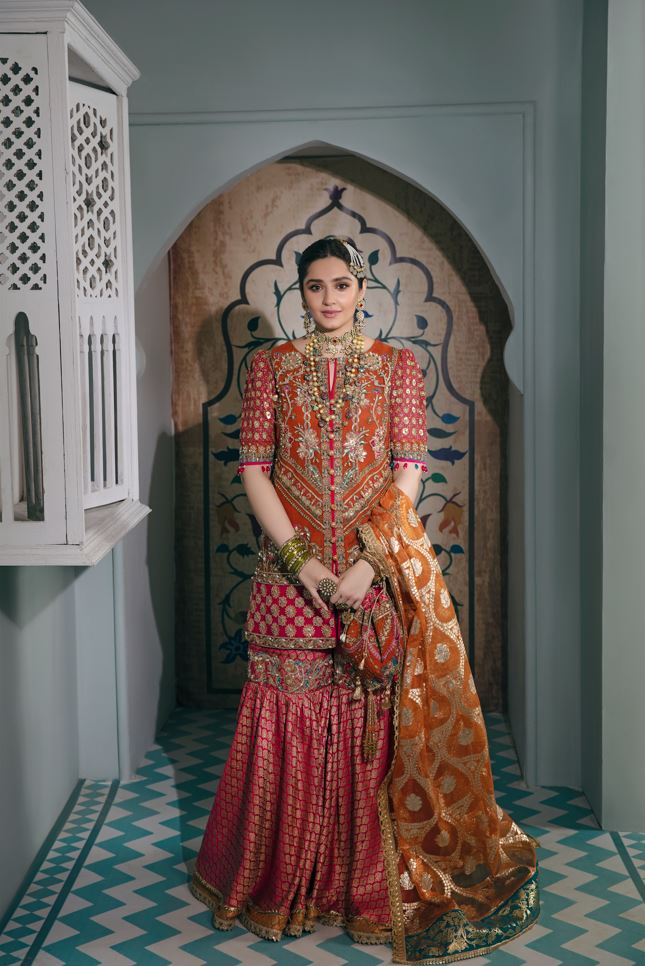 Classic Kurta Shalwar
Simply stunning and ornate, this design is a timeless classic. Heavily worked using a multitude of different techniques including 'gota', 'zardozi' and thread work, it comes with richly laden jewelled tassels. It is worn with a classic 'chota piancha shalwar' embellished using 'succha gota'. The silk tissue dupatta is reminiscent of by gone times and is completed with a fine embroidered full border accented with sparkling sequins. Timeless and simply beautiful.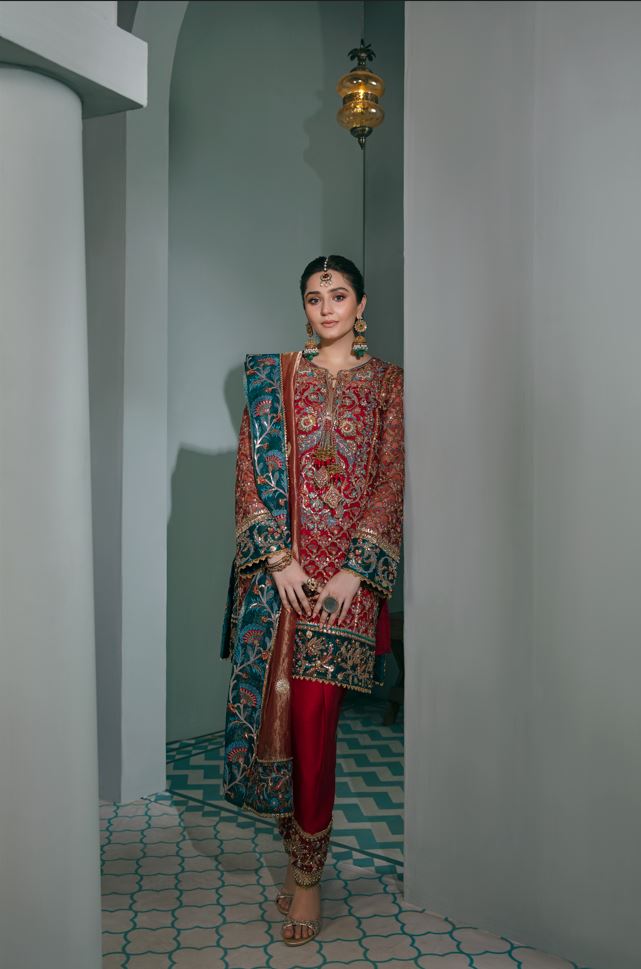 Classic Red Sari
A gorgeous red sari comes with a heavily embroidered border using thread and sequins. The blouse is elegantly hand embellished in rich tones of gold for maximum impact. This statement design is simply exquisite and is the perfect statement for any wedding festivity!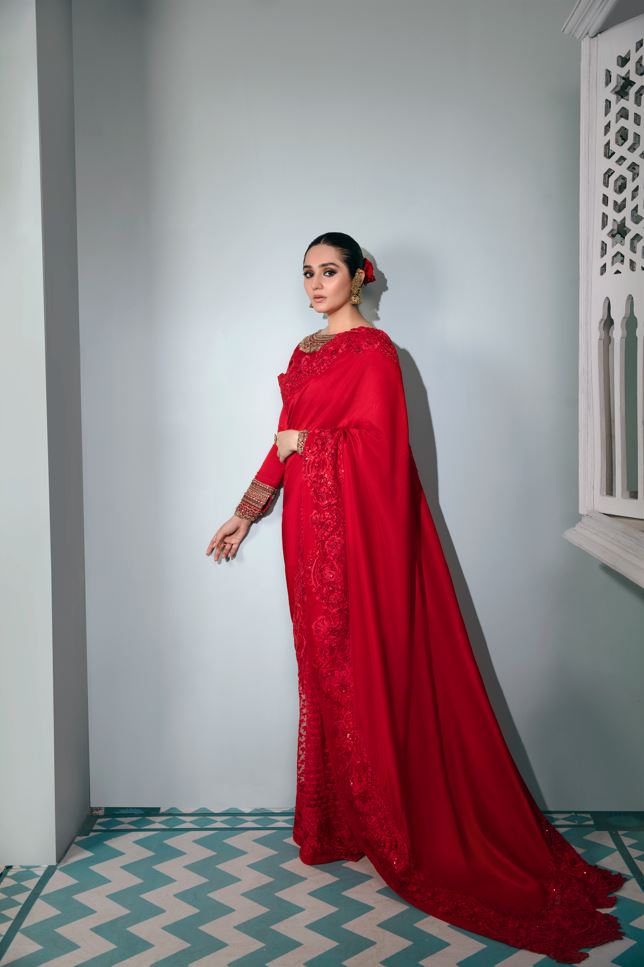 Chic Mustard Gold
This gorgeous silk dress in a stunning and unique colour defines sophistication. The chic silhouette with wide legged pants is adorned with exquisite hand embellishment and is completed with jewelled, hand-made tassels. The tulle/net dupatta is fully embroidered using thread work and sequins. The prettiest outfit and a must have to add to your festive wardrobe.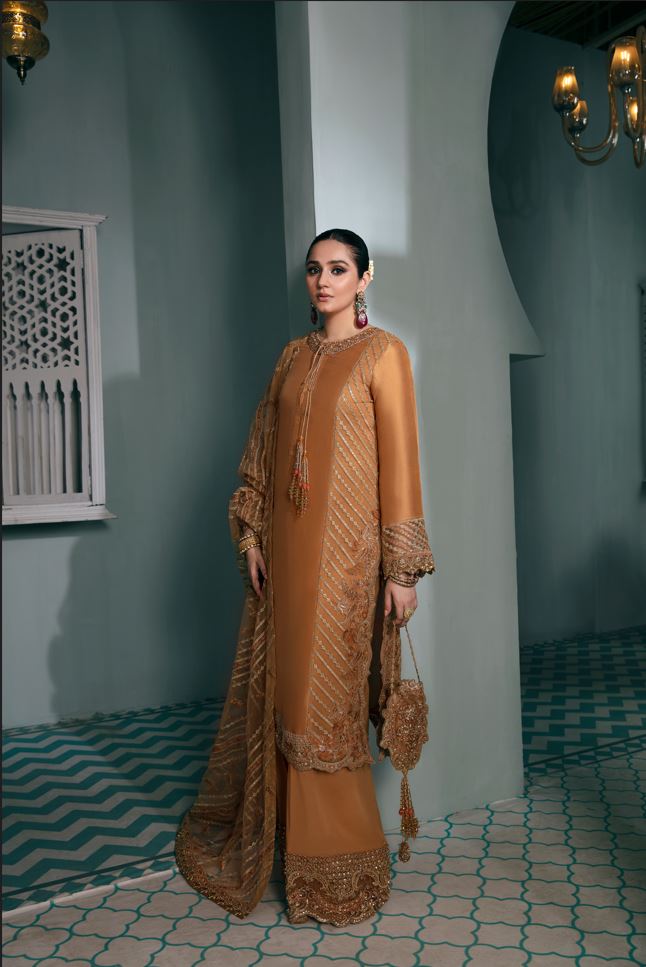 Ammara Khan
Lawn
Lawn Collection
New Collection
Summer