Circle Pakistan, founded by Sadaffe Abid, works towards women's economic empowerment through innovative entrepreneurship and leadership labs, advocacy campaigns and research. During the pandemic, Sadaffe realised the importance of digital literacy and thus, the Digital Literacy Programme (DLP) was founded. This is a 6 week intensive course in developing online skills, utilising a teaching style that is inclusive with videos that are shared twice a week. To learn more about the programme, read our interview below with the founder herself: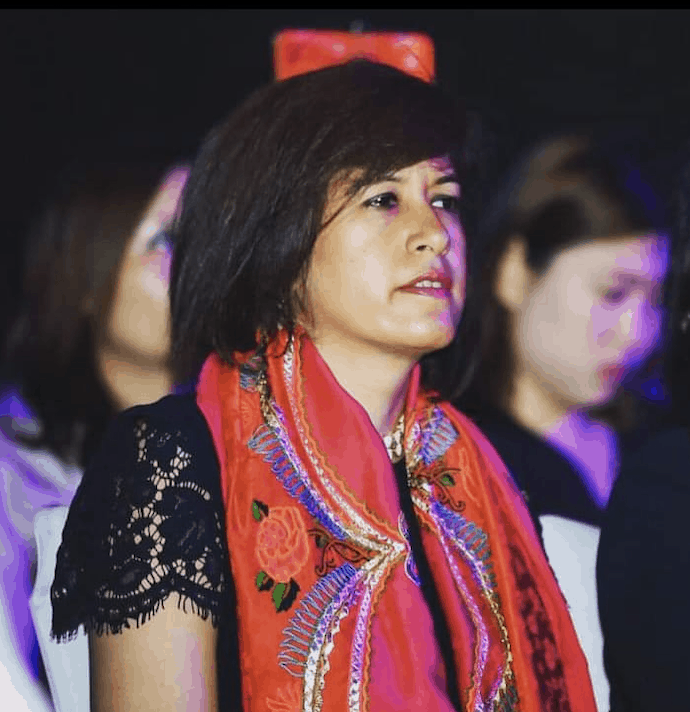 Founder of Circle Pakistan – Sadaffe Abid.
Did anything in particular inspire you to establish this program?
In the pandemic, it became quite clear to me that digital literacy and access to the internet is key for us to have a life where we can continue to learn, engage, and connect with people. That is how I started thinking about how we could bring digital literacy to women and girls in Pakistan; there are millions of girls who do not know how to use the internet or do not have access to it. What was the best way to reach these women given there is a pandemic going on? And how could we help empower them through digital literacy? That is how we thought about using smartphones and thus, the most exciting piece of the project was delivered with myself and my team sitting in our homes in Lahore and Karachi. We worked with women across the country from Lahore, Karachi, Peshawar, Quetta, Karachi and now in Sialkot & Multan.  
What does the program entail?
Pakistan ranks 153 out of 156 countries on the global gender gap index as estimated by the world economic forum, making it one of the worst countries for gender parity. Further, we know that it is the least internet inclusive country as per economist intelligence unit. Women's access to the internet and mobile phones is quite constrained. These are the kind of issues that I wanted to address through this project to really show  the power of the internet to transform lives, and empower women and families. We know that when a woman begins progressing, her entire family progresses and the entire nation moves forward – that is very much the philosophy behind our project.  
How do you help women, who don't have access to technology or the resources, maintain an online presence?
The main idea behind our project is to allow women to use smartphones to do searches on the internet, use digital tools like WhatsApp for business, E-mails, Google Maps, Facebook, Instagram etc. We have delivered the entire project using smartphones by sending videos to women that they could watch from the comfort of their homes. Through these videos they learnt how to make their Email IDs, how to get on Google Meet and we stay in touch with us through WhatsApp groups. Plus, we had live classes which they committed to attend where they learnt basic digital literacy, how to open mobile wallets (since the project is also promoting financial inclusion) and some basics of business. 
How have you run DLP through the pandemic?
We worked with local partners on the ground, Karwan and Taari. They helped us in identifying women from their networks and then we boarded them and briefed them further about the project. The Digital Literacy Program targets the women between the age of 18-50 from low-income families, under privileged backgrounds and excluded groups (for example, in Karachi we are working with disabled women. We are excited to bring digital literacy to them, and learn from this pilot so we can reach more disadvantaged groups). These are women who own small or micro businesses, or aspire to set up small businesses thus, want to learn how to use digital platforms. We had one woman say that she used to think that only big people have E-mail IDs but today even she had her E-mail ID. We are now excitingly gearing up to reach 10,000 women by 2022 so that we can create a digitally literate population which can then become the basis for Pakistan's economic growth. The project is supported by UN Women and it is with their support that we were able to design it.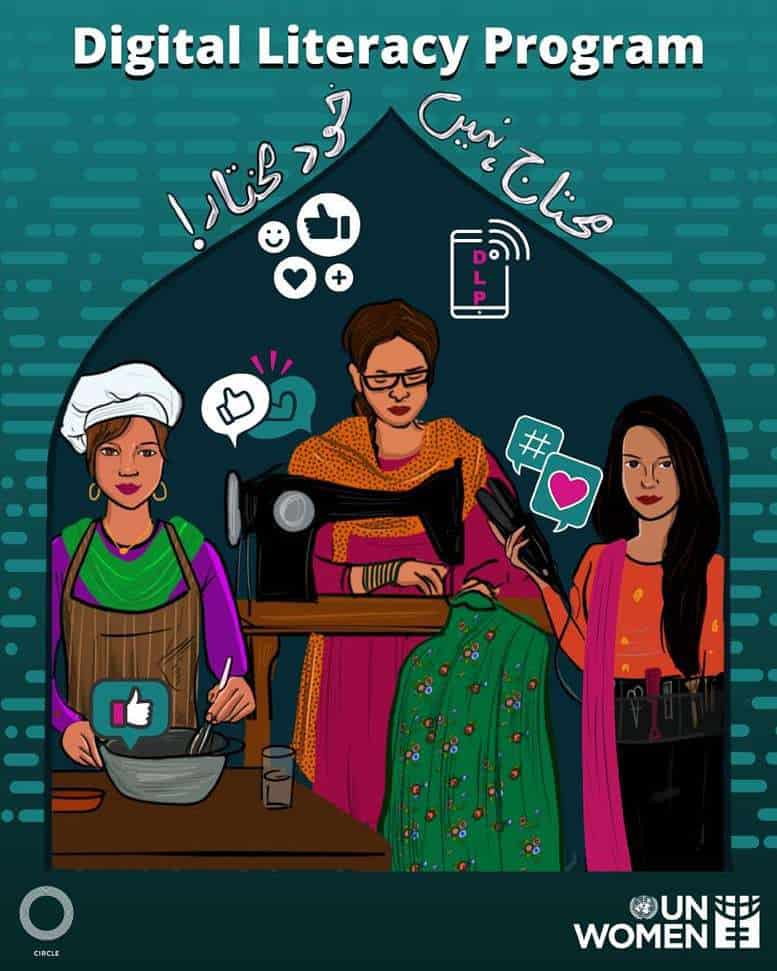 How has the program been designed to be inclusive to everyone? (e.g: are videos recorded in numerous languages?)
With the support of UN Women, we were able to offer them both, data bundles and power banks. We realised that women lack access to internet data packages. So, under this project we provided them with access to 2 months of internet to facilitate them to join the live classes and practice. We also provided them power banks since there is such a major electricity shortage, and we did not want them to miss classes. Going forward, we want to continue to offer data bundles to women and we would like to see if we could arrange power banks from companies who would like to partner with our project. Through this, we hope to prevent the exclusion of women, and create access and opportunities for them. 
Amid the pandemic, I started thinking about women who are marginalised, who could not use Zoom and Google Meet. The pandemic has clearly shown the need to invest in digital literacy for women or else they will be left behind. With the support of UN Women, we designed the curriculum, made the videos, and had local partners on the ground. We reached out to women, made calls, and it took a lot of trust building because if men answered the phone, they were skeptical. Even though the women had questions about the modalities of the program, we had to build a lot of trust. Many women joined the program with a lot of skepticism but once they joined, they realised it was a fundamental opportunity to transform their lives.
Inclusion is very integral to us and hence, we are also working with a group of disabled women. We wish to work with all sorts of groups. We would love to raise funding and garner support so that we can reach out to the transgender community and empower them through digital literacy as well. They could use these digital platforms for knowledge, skills, and putting out their newfound skills. Currently, our videos are made in Urdu but we intend to go to other geographies and making them in regional languages.
How does digital progress contribute to a woman's success?
The sense of empowerment and confidence that is experienced as a woman, starts from becoming digitally literate. It leads to the discovery that she can use something as simple as Google map to trace a vendor, trace her upcoming products, or to find a location. Just small things like these are very empowering for women. Once they start putting their business online and start getting orders, appreciation is also very powerful. In today's world, women at all levels of the economic ladder need access to digital tools which can really transform their lives. Our goal is to reach out to a million women by 2025. It is very doable; we are building a curriculum, we have a great team of trainers who are refining our curriculum, we are building systems and processes, and setting up a network of local partners so we can identify the women. We need support from the private sector so that they can help us reach out to more women by sponsoring our training and also building impactful partnerships (for example, for women to have subsidised smartphones and data packages). This will make it easier for us to attract women; digitally literate Pakistan is the future.
What are some of the challenges you have faced in conducting the program?
We have catered to 400 women till date and there had been many challenges of building trust with the communities. But now with an increasing number of graduates, we are able to mitigate this challenge as our graduates are talking and recommending it to more women. Another challenge is connectivity. There are many areas in the country that have load shedding and these things disable women from joining the classes. We need good infrastructure throughout the country in terms of internet access. It's also difficult sometimes for women to get permission from their families to set up their Facebook and Instagram accounts. A lot of times they say that they are not allowed to create the accounts with their own names, and that they have to use their husband's name instead. So we explain to why it is integral for them to have their own personal account.
We need massive campaigns around the media, in today's age it is important for all families, and women in particular as how it opens up opportunities in terms of skills, increases market reach, knowledge, access to information on health, and education which is beneficial for the whole family. We have a special section around personal security on all these digital platforms. It is important for women to know how to be safe while being online because we know that women face harassment and other challenges so we teach them about passwords, privacy, security – all these matters are discussed in depth.
Angry
Balanced
Checked Out
Competitive
Mom
Mom's Day
Mother
Mother's Day
Obsessed
Pakistani Mom
Pakistani Mother's
Quiz
Stereotypical Mother
Stereotypical MotherAngry