Vibrantz Bulgarian rose oil is a natural moisturiser that is gaining popularity worldwide. Able to intensely hydrate the skin, reduce the risk of premature aging and give skin a youthful radiance, it's a powerful facial oil to add to your skincare routine. In this article, we're going to explore the increasing risk of climate change and how it can impact the look and feel of your skin. And how Bulgarian rose oil helps to strengthen your skin's natural barrier and combat free radicals. 
Is The Environment Ruining Your Skin?
In Asia, the weather is becoming more severe. Many countries in the region have already witnessed several weather-related natural hazards, but with heatwaves and droughts on the rise worldwide and sea storms and cyclones taking place more often in this part of the world, climate change is becoming a major health concern. 
Your skin is also being affected by the weather changes. Heat alone can completely dry out your skin, and sweating to keep cool increases your risk of breakouts. While you might try to combat dull skin by applying a rich moisturiser, if you have an oily complexion, this can quickly clog up your pores, leading to blackheads, whiteheads, and pimples. Pakistan has a hot summer but cold winter, and trying to stay indoors when it's cold outside can leave your skin begging for moisture! But, whatever you do, don't give in by applying a body cream or fragranced moisturiser to your face. You'll want to invest in a natural facial oil to enjoy a lightweight application and obtain clear, even complexion!
But that's not all. Some environmental factors can make the skin vulnerable: sunlight and ultraviolet radiation, visible light, infrared radiation can produce oxidative stress, photoaging, and photocarcinogenesis. Air pollution such as tobacco smoke, dust, and debris can also impact your skin health. It can cause long-term damage, premature aging, and darkening of skin cells from the inside. You may also experience eczema, dermatitis, and rashes. Not something make-up can easily cover up!
Free radicals, which pollutants such as dust, smog, cigarette smoke, and household cleaners can increase your exposure to, can quickly dismantle the natural structure of skin cells, and cause premature aging. You'll likely be in contact with free radicals every day, but you can combat their effect on your skin by using antioxidants. Facial oil and natural moisturisers that are high in antioxidants can help protect your skin and overall health from free radical damage. Look out for facial products with vitamins A, C, and E if premature aging is one of your top concerns. Bulgarian rose oil is a rich antioxidant facial oil that can support skin cell turnover, prevent free radical damage and minimise your risk of breakouts.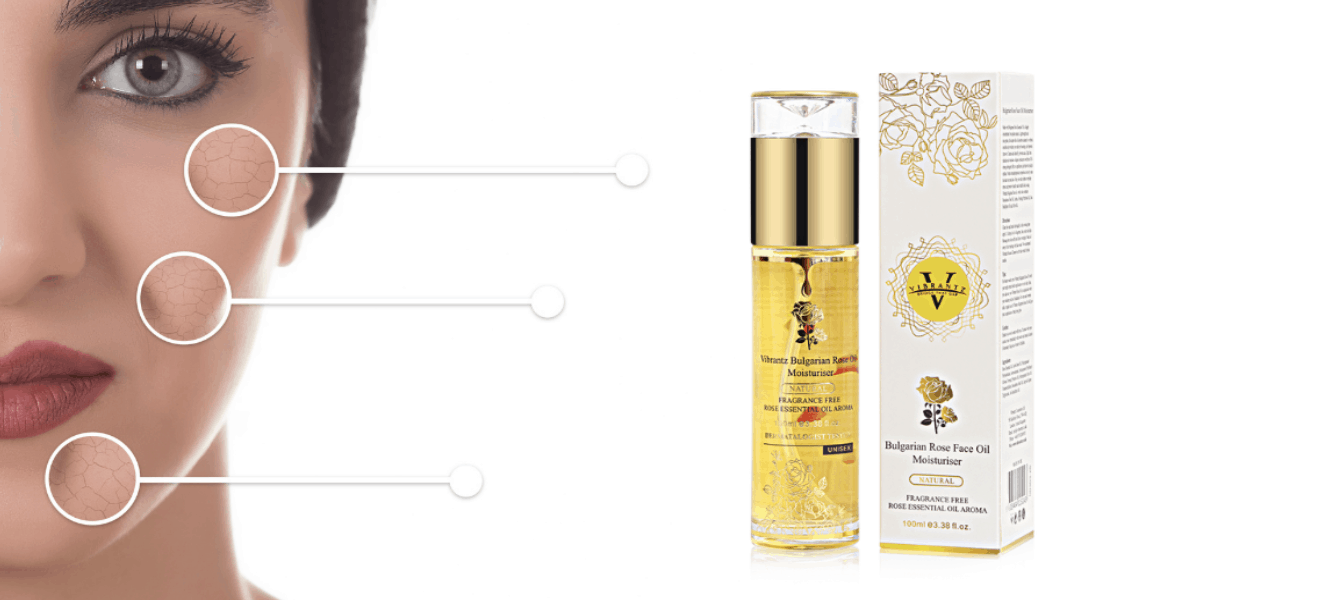 5 Benefits Of Vibrantz Bulgarian Rose Oil
So, let's take a look at the five benefits of using Vibrantz Bulgarian rose oil as part of your daily skincare routine.
Strengthen Your Skin's Natural Barrier  
Bulgarian rose oil contains a wide range of vitamins, minerals, and antioxidants that work together to effectively strengthen your skin's natural defence system. By using this delicately fragranced facial oil on a daily basis, you can hydrate your skin without clogging up your pores. Ideal for anyone with dry skin but prone to breakouts. 
Prevents Premature Aging 
Premature aging can happen for a number of reasons. From UV exposure, intense heat and stress, to using chemical-based cosmetics that strip away moisture from the skin, if you are concerned about premature aging, use a natural moisturiser like Vibrantz Bulgarian rose oil. When used on a regular basis, Bulgarian rose oil can also deactivate dead skin cells, helping to improve skin cell turnover. This is when you will notice a difference in the texture and radiance of your skin.
Antioxidant Facial Oil
As we've just mentioned, some climates and environments can really take their toll on our skin. But, by using an antioxidant facial oil, you can protect your skin from free radical damage and nourish your skin with a vegan and organic skincare product.
Treats Redness & Inflammation
An uneven complexion can be frustrating, but Bulgarian rose oil can help to reduce redness and soothe sore, irritated skin. It has a toning and astringent effect on the capillaries, just below the skin surface, reducing their visibility. So, you can finally say goodbye to piling on the foundation and concealer in an attempt to camouflage redness and treat your skin to the benefits of rose oil.
Reduces The Risk Of Breakouts 
Since it is a natural moisturiser, Vibrantz Cosmetics Bulgarian rose moisturiser will nourish your skin and give you a radiant glow without increasing your risk of pimples, breakouts, and acne. By applying day and night after cleansing your skin, it will also prevent bacteria from clogging up your pores too, which can also lead to unsightly pimples!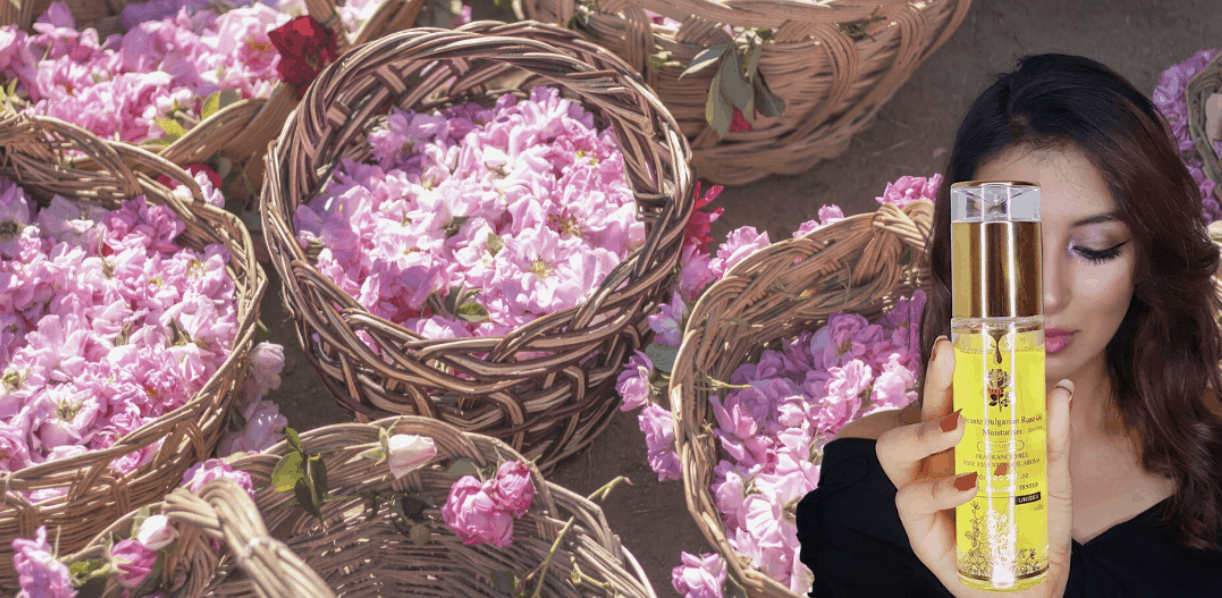 How To Use

Bulgarian Rose Oil

There are actually several ways to incorporate Bulgarian rose oil into your skincare or make-up routine. You can lightly apply and gently massage into the skin after cleansing and removing all traces of make-up before you go to bed. You could apply before your make-up to hydrate the skin and soothe redness and inflammation. Or, you can even use this sweet-smelling facial oil to dilute your foundation for a smoother application. If you do want to do this, only 2 to 3 drops are needed. Within three months, you will enjoy the remarkable benefits of Vibrantz Bulgarian rose oil and since it's made with only organic ingredients, your skin will certainly thank you for it!
Argan Oil
Beauty
Coconut Oil
Curls
Curly
Curly Girl Method
Curly Hair
DIY Serums
Double Conditioning
Hair
Hair Care
Hair Products
Hydrating
Moisturising
Oil
Paraben Free
Serums
Silicone Free
Sulphate Free
vitamin e
Wooden Comb
Word Of Mash
Word Of MashArgan Oil