Dressing up in glamorous clothes is one of the most exciting parts of Eid. The anticipation of lunch and dinner parties, deciding what the best colour to wear this time of year is , finding the perfect accessories to pair with your outfit – it's all part of the fun! If you haven't shopped for an Eid outfit as yet, no need to worry– we've curated a list of 8 outfits that would be perfect for your Eid wardrobe.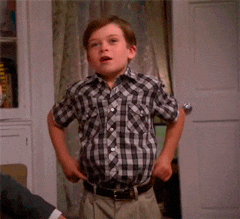 White And Blue Printed Dream
A white outfit with a touch of navy blue makes the perfect pairing for an elegant and stylish look. This dress by Suffuse is dream-like and heavenly. The light colours and fabrics make it perfect for an Eid lunch event, or it can be styled with heavy jewellery and accessories for a more formal evening look.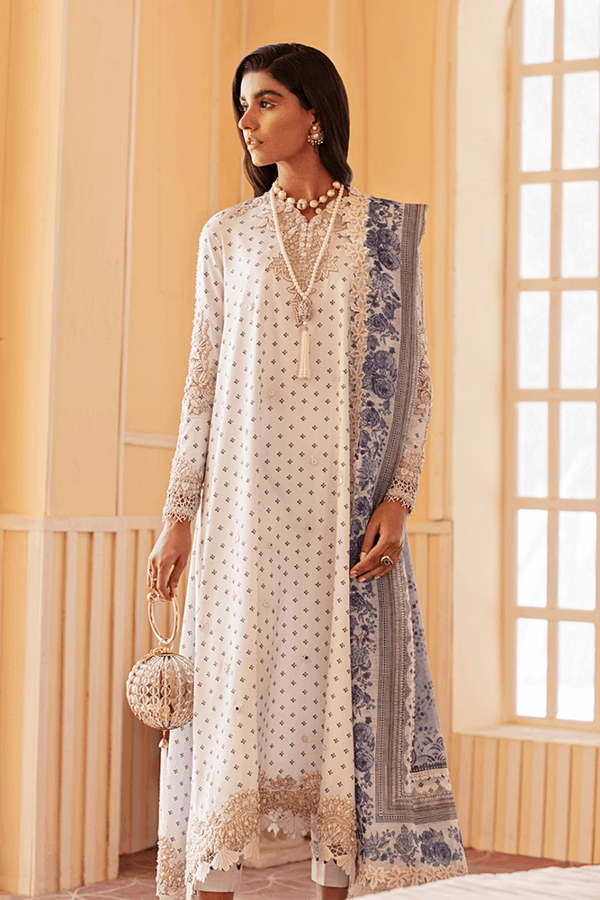 Soft Sage And Coral Bloom
Sage is a beautiful colour that is very on trend this season. Paired with a soft, pastel shade of coral, the combination of these colours with the light, breezy lawn fabric is perfect for summer! This three-piece outfit by Noor by Saadia Asad has intricate chikankari embroidery, floral detailing and is paired with a printed chiffon dupatta. This dress is the embodiment of a garden in bloom!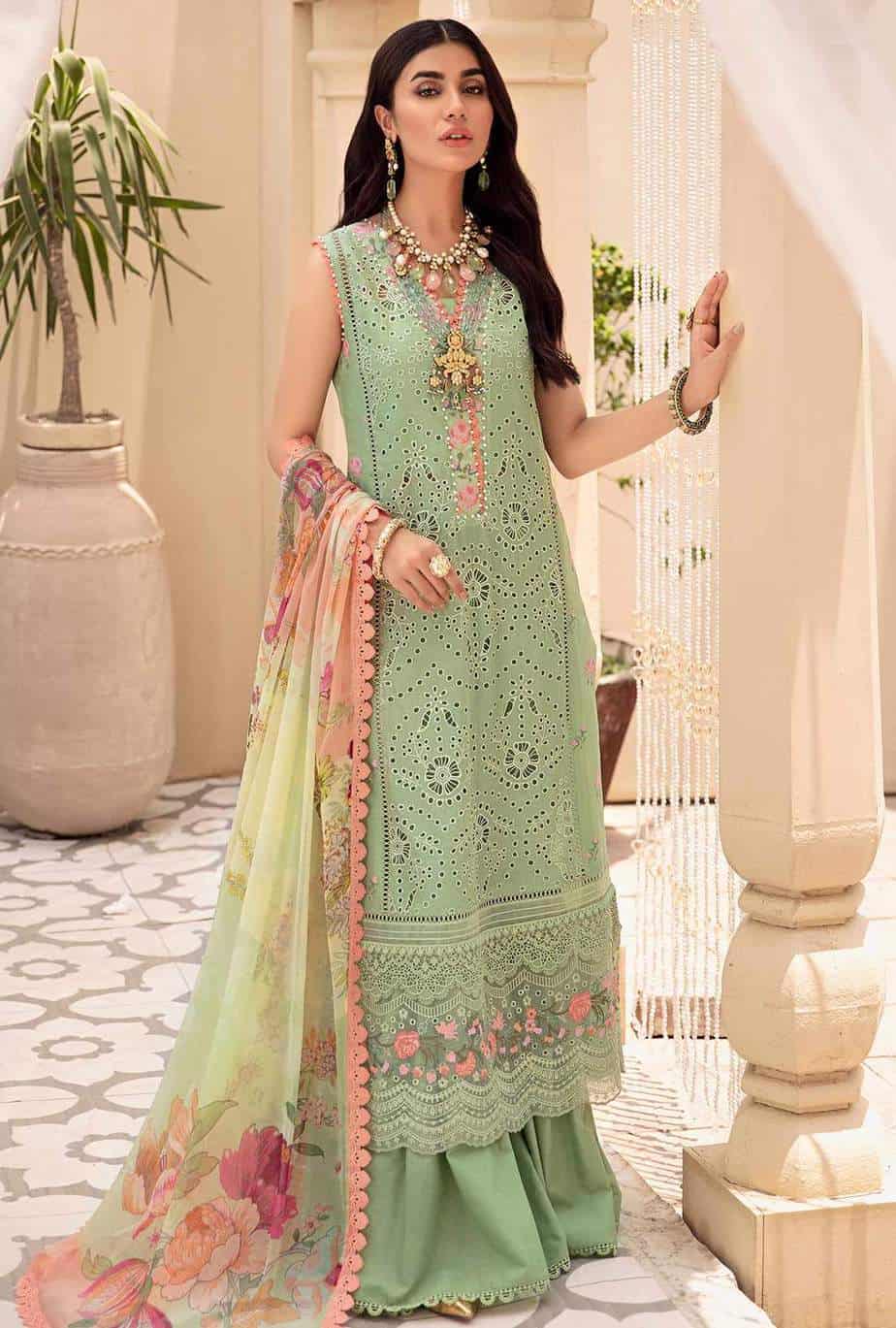 Plum Fantasy
We love Baroque's elegant and feminine style. With intricate embroidery and various print styles to choose from, you can find the perfect look for your Eid wardrobe. This three-piece suit is in a stunning, rich plum colour is so vibrant that you are sure to stand out from the crowd! The lace detailing gives it a modern, yet traditional feel.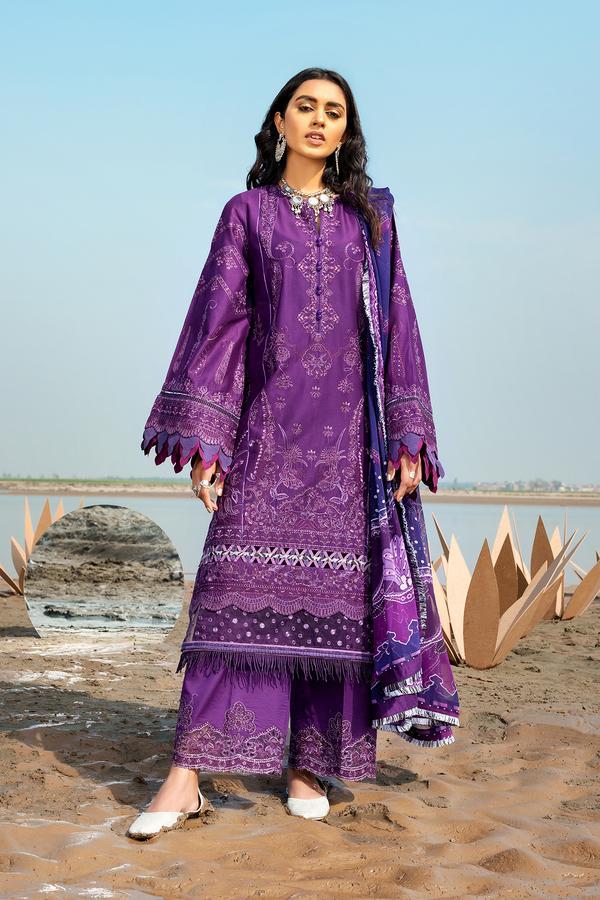 Vibrant Fiery Red
Red is the colour of love, and we are absolutely in love with this three-piece ensemble by Zara Shahjahan. A gorgeous, fiery red kurta and matching sharara pants, for a traditional and timeless look! Paired with this is a white woven organza dupatta, with embroidered motifs. The kurta has tilla and resham embroidery, making this look very elegant and reminiscent of traditional royalty.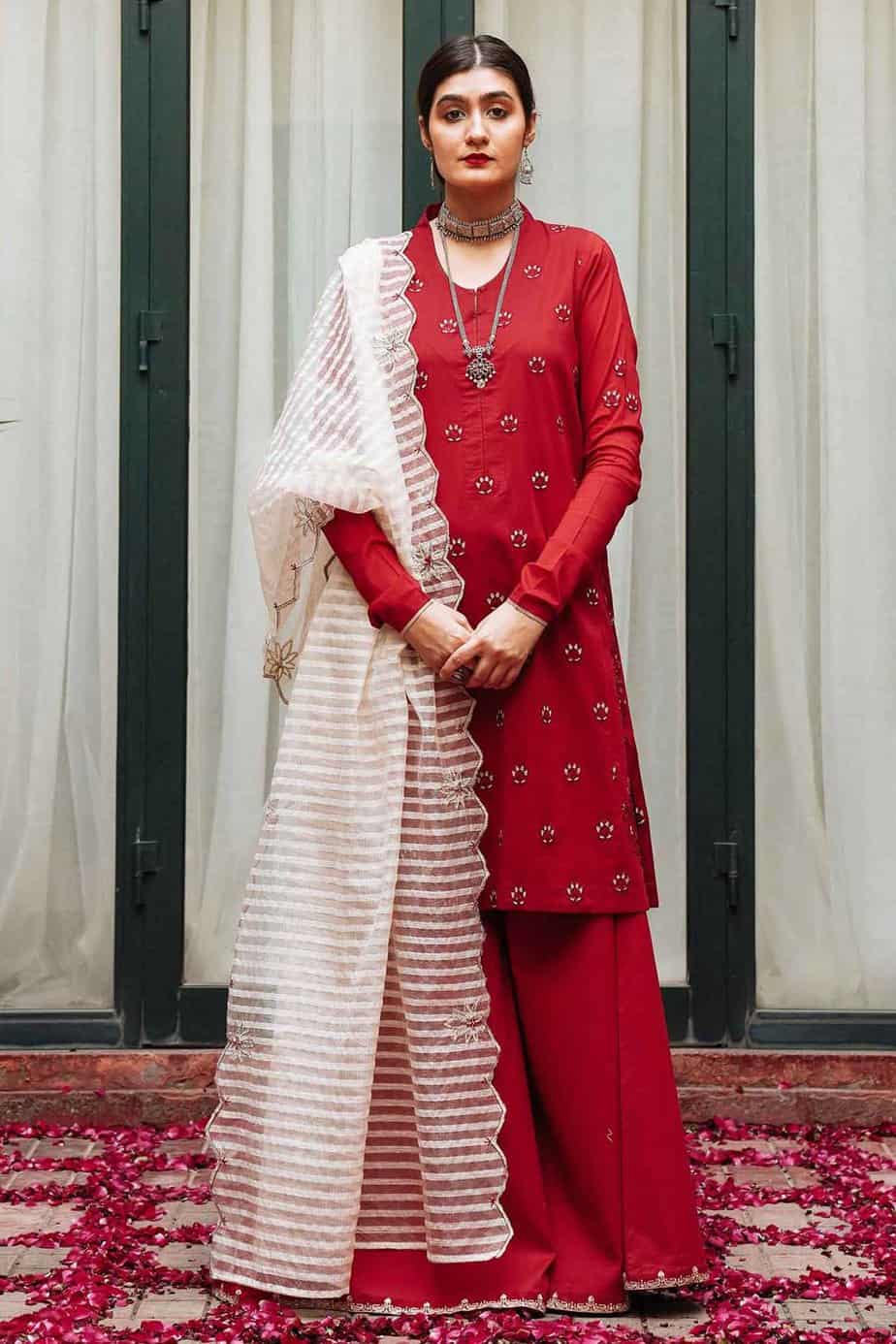 Angelic White Ensemble
All white outfits always look stunning and put together. This beautiful white two-piece outfit from Ethnic is ideal to wear on Eid morning. With delicate and intricately done embroidery and pearl detailing, this is feminine, youthful and angelic. The neckline has a keyhole cutout, making this dress stylish and edgy. A perfect blend of cool and glamorous, you're sure to love this dress!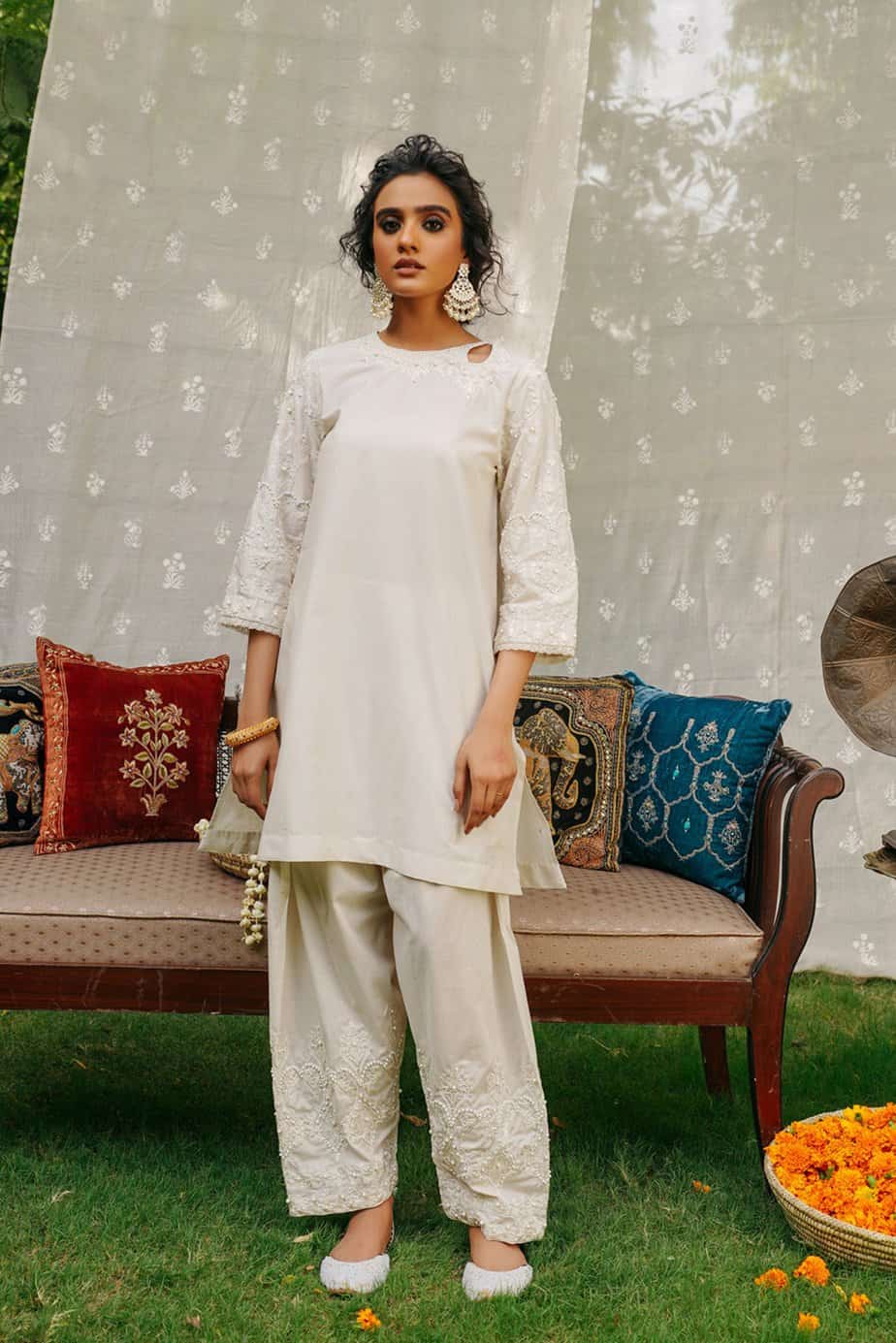 Colourful, Light And Breezy
Eid in summer means an array of light, breezy and bright colours, including aqua, yellow, pink and more! We love this print by Ammara Khan from their debut unstitched lawn collection, in a light shade of aqua overlaid with a decorative colourful pattern of florals and wisteria. This is the ideal daytime look for Eid, paired with white bottoms and a white chiffon dupatta, and you're all set!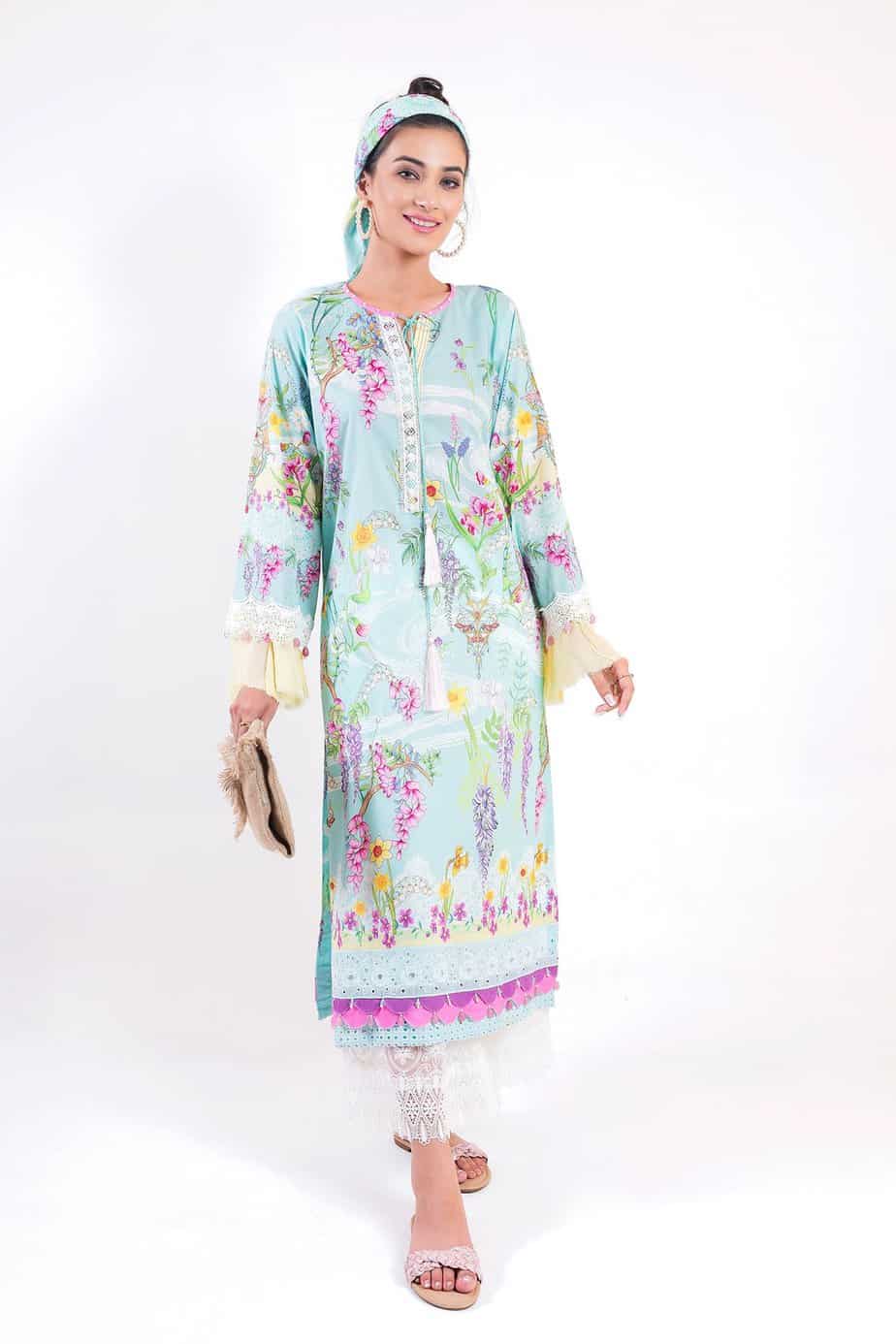 Exquisite, Silky Red
This dress by Mushk is in a deep shade of red with exquisite white embroidered motifs across the front and sleeves creates a stunning, romantic look. The fabric is silky and soft with horizontal pleats and a round cut to create the perfect silhouette. You'll definitely be the centre of attention on Eid wearing this!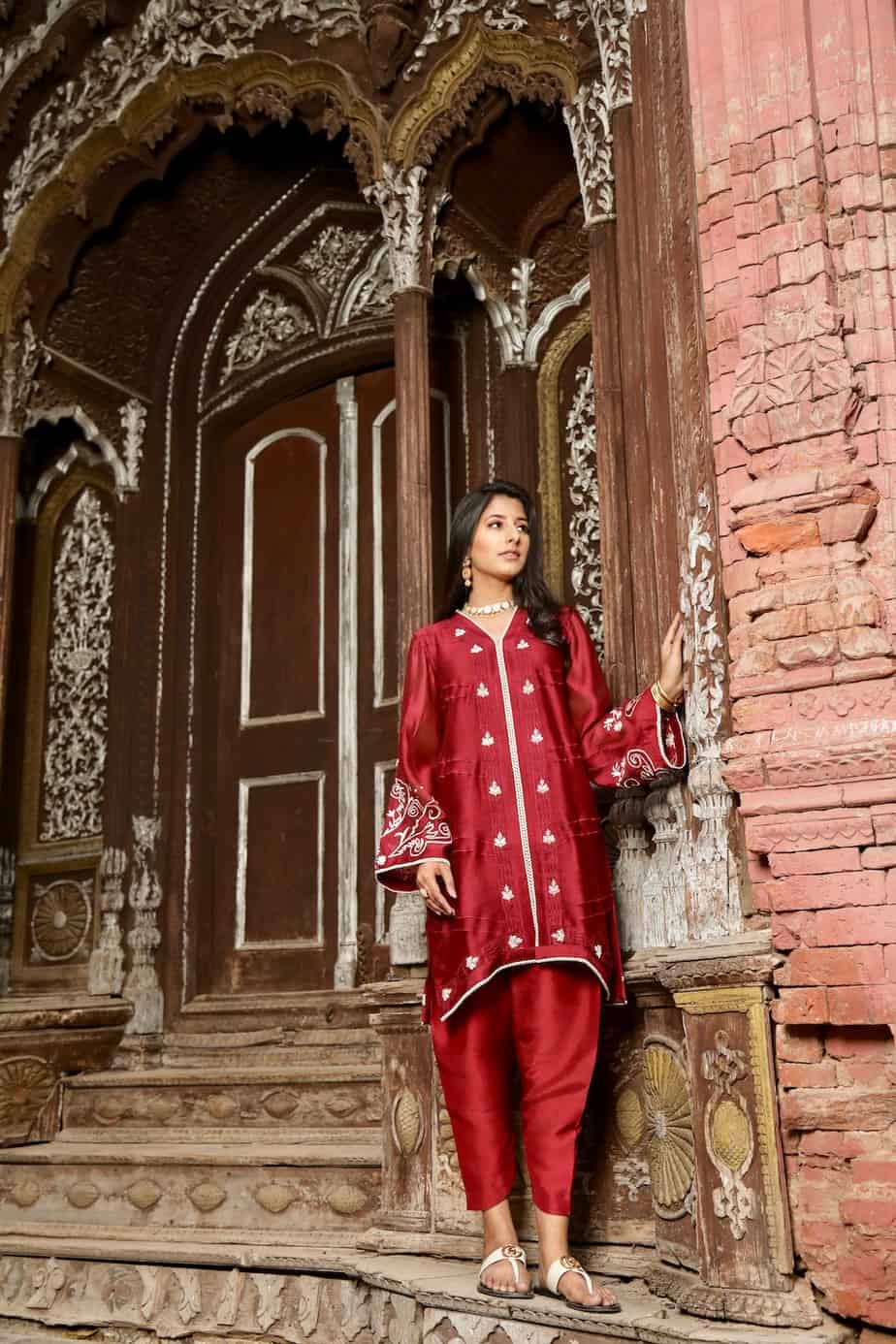 Cool Tie And Dye
Look chic and cool on Eid in this two piece set by Mish, in vibrant shades of maroon and beige. Tie and dye gained a lot of popularity in the past year, as everyone was experimenting with new DIY fashion looks at home, and it's a stunning look for your Eid outfit too!