Tucked deep inside the metropolis of Karachi is a home that is more than 80-years old. Located near Quaid-e-Azam's mausoleum, this charming house has been converted into a place meant for artists. The renovators of this quaint home, The Dawood Foundation, call it the TDF Ghar.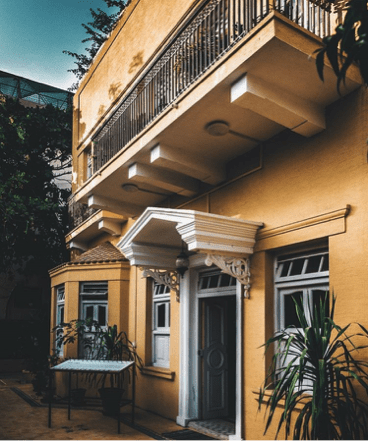 Upon entering, you're immediately transported to another decade – but details about this home is a story for another time (trust us, we could write a book).
What struck us most were the extraordinary tiles! These tiles tell tales of the rich cultural history of Karachi – the good and the bad. They come in various colours, different patterns and several mosaics. Some are worn out, showing us everything they have endured and seen, and some are in pristine condition, glistening underneath the scorching sun.
Since it's construction in the 1930s, the house has withstood historic movements like the exit of the British Empire, the partition of the subcontinent and several volatile episodes in Karachi. The tiles have been restored into this home create an ambience, which not only takes you back to the beginnings of Pakistan, but depicts the lifestyles of people living in such houses. And what vibrant, courageous and multifaceted people they must have been!
TDF Ghar is open to the public. If you don't believe how magical this place is, pay them a visit yourself and find out. But make sure you're ready to Instagram (possibly everything – but especially the tiles)!