Dry winter days can take a toll on your skin, but only if you let them. With some effort and a few changes in your skincare routine, you can actually protect your skin from the cruel, rough air. Along with changing your wardrobe this winter, switch up your skincare products to keep your skin healthy and glowing. Browse through these skincare changes and adapt them as soon as winter arrives!
[twl_embed link="https://www.instagram.com/p/Bs_AYtngzLK/"]
1. Replace Foaming/Gel Cleansers With Cream Cleansers
Your skin lacks some serious moisture in winters and using strong cleansers just makes it all worse. Instead, opt for cream cleansers that are gentler on the skin and infuse your skin with the right amount of moisture.
2. Replace Astringent With A Moisturising Toner
Astringent is used to minimise pores and dry up oily skin. But it's not the best skincare option for winters. Though that doesn't mean you compromise on having refined pores and fresh skin in cold weather! Toners that offer similar benefits are there for a reason, so use them. There are different toners for different skin types; here's how to pick the right one for you:
Oily skin: Use a clarifying toner to keep the oil at bay.
Combination skin: Opt for a hydrating toner and focus it on your T-zone.
Dry skin: A hydrating formula will keep your skin soft and supple.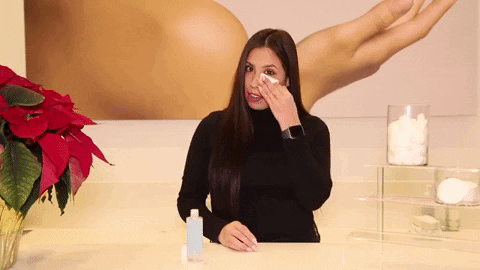 3. Replace Lightweight Moisturiser With A Richer Cream
A lightweight moisturiser is great for the summers, but it won't give you ideal results in the winter. A richer moisturiser will protect your skin, along with keeping it hydrated for a longer time. A moisturiser with fatty acids and ceramides will help you skin maintain its protective barrier. And if you have oily skin, it doesn't exempt you from dryness! Get an oil-free moisturiser that has hydroxyl acids, which will help control oil while keeping you moisturised.
4. Reduce Heat Exposure
A hot shower is a very relaxing feeling, but especially on chilly days. Unfortunately, thought, they're not that great for your skin. Extreme exposure to heat can lead to parched and dry skin. In the winter, avoid exposing your skin to heat as much as you can and keep your shower temperature mild.
5. Include Serum In Your Daily Skincare Routine
We all know that serums have amazing moisturising and anti-aging benefits. That's why winter is the best time to incorporate them into your skin care routine! Though thinner in consistency, serums are packed with active ingredients that are great at targeting skin concerns. Use one everyday before your moisturiser for the best results.
6. Pamper Your Skin With A Mask Every Week
Face masks should be a part of your skincare routine regardless of the season, but they're an absolute must in the winter. There are several masks for various skin issues, such as blackheads, congestion, dullness and so many more. In winters, you should opt for a hydrating mask that'll restore moisture back into your skin.
7. Invest In Lip Balms Instead Of Lipsticks
We're not asking you to stop buying lipsticks (we could never!) but invest in good lip balms in the winter season.  Your lips are the most vulnerable to dry weather since they don't produce oil that'll give them natural moisture. That's why you need to protect them with a rich, moisturising lip balm. Take it a step further by getting a lip mask to make your lips smooth and supple – and for beautiful lipstick application!