In the age of Instagram and highly curated content, photographs matter. The aesthetic, the colours and the type of shot – they all contribute to the quality of a picture. And when it comes to fashion bloggers, know which outfits photograph better than others is key! There are certain colours, materials and fits that shine in pictures more than others and take your Instagram game up a notch! Here are six outfits that will make sure your impromptu photo shoot gives you the perfect Instagram vibe you're going for.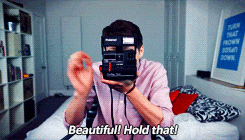 1. Solids
Solids are widely known to photograph really well. They create a balance and attract the right amount of attention to your face and the clothes. They're also quite trendy these days, especially amongst our favourite fashionistas! Invest in high-quality, solid separates for a polished and put together picture.
[twl_embed link="https://www.instagram.com/p/Byp2J1npMdK/"]
2. Well-Fitted Clothes
While oversized clothes are a huge trend these days, they might not always translate on camera. As a rule of thumb, choosing a silhouette that fits you well will guarantee a good picture. Clothes that are a little too big or too small end up making you look frumpy and uncomfortable in pictures. Besides, wearing what is flattering to you should be of utmost importance!
[twl_embed link="https://www.instagram.com/p/BxCtKhvjVQ-/"]
3. Classic Prints
While we swear by solids, we know they can be a tad bit boring sometimes. Prints are a great way to add an element of fun into your photographs, provided they're not OTT and hide you! Stick to the classics – floral, stripes, plaid or even animal print, which is all the rage these days. Pro tip: If you're wearing a bright print, avoid busy backgrounds, because it will make the picture too chaotic.
[twl_embed link="https://www.instagram.com/p/BzfOwKclrch/"]
4. Dark Hues
Bright colours, especially neon shades, are absolutely gorgeous IRL, but don't always translate on camera! Dark fabric and colours are less likely to get distorted by flash photography so they're your best bet. Opt for navy blue, black and dark green shades when you know you'll be photographed, especially if it's in a professional setting!
[twl_embed link="https://www.instagram.com/p/BzGOITIH1Ip/"]
5. Flowy Dresses
A maxi or flowy dress is the perfect outfit for when you want that dreamy shot! The fabric stands out and looks graceful in a breeze, adding some movement to you pictures. Plus, you can work from different angles and twirl around to your heart's desire to get the perfect picture and who doesn't love that!
[twl_embed link="https://www.instagram.com/p/Bwg8Mmsn22z/"]