The beauty industry all over the world has slowly but steadily been evolving over the past decade. We've recently seen international modeling agencies also break the 'forever young' stereotype – IMG added a 97-year-old model to their roster and 71-year-old Joni Mitchell modeled for Saint Laurent. In 2017, Allure decided to removed the word "anti-ageing" from their dictionary, which encouraged brands to support the idea of "ageing well." This impact was felt in Pakistan as well, where clothing brand Generation created their 'Shehnaz Ki Shaadi' campaign to break the taboo of middle-aged women getting married. Not only did the brand break the stereotype of having an older model, it simultaneously showed just how beautiful ageing is.
[twl_embed link="https://www.instagram.com/p/BctpKrrDcUd/?hl=en"]
But these are still just a few examples of how some companies are changing the representation of beauty standards by becoming more age inclusive. The real question here is: why are we still obsessed with anti-ageing?
According to a WHO study, the average life expectancy has increased in recent years and there's a large group of people now entering their 50's, which is why beauty brands tapped into that market with their anti-ageing products. But this doesn't necessarily mean we're living a better quality of life, because we certainly aren't! We're constantly being encouraged to pack our faces with chemicals in plastic bottles, falsely promising a lifetime of eternal and youthful beauty. But think about it – if we start embracing our age and refuse these anti-ageing products, beauty brands will have to develop products that keep our skin healthy instead of making chemical products to remove wrinkles!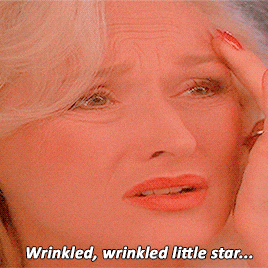 Of course, none of this means one should stop taking care of their skin's health; but we cannot become devasted over wrinkles and fine lines that appear as we age. Ageing should be just as beautiful as looking young. Instead of focusing on anti-ageing skincare regimens, we should be encouraged to eat and live healthier. We should give more importance to fitness and clean eating, taking care of our bodies and preventing sickness! And we should definitely stop discouraging women from reaching their potential, professional or personal, due to age.
But this change begins with all of us. We first need to start appreciating our own age. Only that will encourage beauty brands to have more beauty products that cater to older women and have older model, so we're not caught in false advertisements. It is absolutely crucial for us to see all ages being represented in a progressive way, so that we don't start dreading our own age.