If there's someone who's changing the dynamic of destination weddings, it's The Social Squad. This creative-duo is aiming to change the way events are curated with their thought-out planning, unique ideas, acclaimed design and customized production.
Creative Entrepreneur, FahdNasr, and Visual Artist, Ayesha Haroon, have orchestratedseveral memorable events under their guiding eye.The duo and their multi-talented team curate social experiences, by activating spaces, and produce quality interpretations of both classical and daring new themes.
[twl_embed link="https://www.instagram.com/p/BzgaT0mA_NN/"]
They recently launched their campaign, 'Destinations by Squad,' with the vision of telling stories by curating and collaborating for boutique weddings in different cities in Pakistan and abroad. They were brought on board for #SattarNoMoh – an Indo-Pak wedding in New York City – and pulled off the big fat wedding in luxe venues across Manhattan and Long Island.
The journey travelled across the Atlantic Ocean and was a collaboration with some of the biggest names of the American Event Veterans – some of which are acclaimed by the New York Times, National Geographic and Vogue US. Armed with the objective of giving Pakistani brides living abroad the feel and vibe of their culture, the team created the perfect blend of modern yet traditional.
We had an up-close conversation with Fahd Nassr – a multi-visionary and the youngest Creative Entrepreneur and Event Curator of Pakistan – to learn more about the Social Squad journey.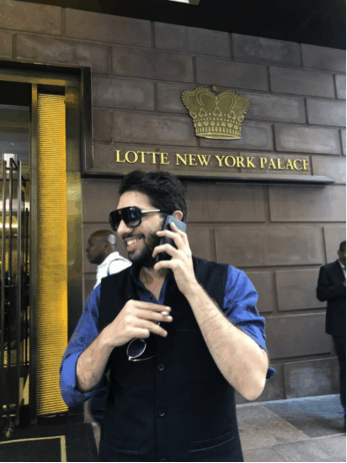 1. Fahd, tell us a little about your journey. You have a very extensive profile and have done some great projects. Tell us how it all started?
I still feel my profile could be a lot more extensive! I just feel it's in my blood and this entrepreneurial bug started when I launched an online food delivery app at the age of 18. It was short-lived, but I gained a lot of exposure and credibility. After that I moved to South Africa, where I brushed up my skills for 4 years in the digital and finance markets. Upon my return, I ventured and launched Pakistan's first board game café and co-working space, Pi Social, and have been the Creative and Content Director for Shaan-e-Pakistan since their first event kicked off in New Delhi. That's when I realized my love for event production and space psychology and, since I was a travel enthusiast, Ayesha and I decided to partner for a boutique event planning and design house – The Social Squad.
2. The Social Squad is making rounds due to the success of your first destination wedding in New York. How did it all happen? Tell us about the theme of the wedding.
Our company's vision is based on enabling different destinations, planning and producing multicultural events. It was a 6 month long journey and multiple sessions of planning. We were brought on board to recreate Pakistani culture through our signature style of visual storytelling, and were collaborating with Sonal Shah, New York's most acclaimed South Asian wedding planner. We believe in real celebrations and meaningful experiences, not just spaces. It was a display of colors, cultures and lots of happy emotions, as any wedding should be. We promised to bring a South Asian flavor to the concrete jungle. We had personalized and handcrafted production as well as setup that included a newspaper, wedding favor cart and handcrafted umbrellas amongst others.
3. How did you decide the theme for the wedding?
Our process is very organic and in phases. The theme for this wedding came about after numerous Facetime chats with the bride, who's a South American-Pakistani based in New York. She's hasn't visited her homeland in two decades but listens to Nazia Hasan enroute work, loves pink chum chums and everything desi. After multiple conversations with her, we finally made the plan; the mood board, the activities and the journey for the events.
[twl_embed link="https://www.instagram.com/p/Bz3zkq4BzGA/?utm_source=ig_web_copy_link"]
4. When you're working with clients for weddings/events, do you encourage their input?
Of course! Our vision is to put together stories and build event spaces that depict family histories and the couple's memories. Our previous event earlier this year was for fashion editor and stylist, Mehek Saeed, in Lahore. We worked closely with her, from mood boarding to curation of activities, integrating her character into the decor and ambiance. The same process was applied when we collaborated withAmy Sattar in New York.
5. How did you manage the logistics all the way from Pakistan?
Through our experience in the entrepreneur and creative industry, we've managed to build an extensive network. We export all our handcrafted, custom inventory for the events. We had a local team coordinating from the United States that took the lead in planning, executing and putting together the trail of culture, along with our core team, which flew down closer to the event from Karachi and London.
6. Are your ventures purely based on your creative thought process or are more minds involved?
There is no brand without teamwork! We have some great individuals in our team and I'm also involved in multiple things. Ayesha is my constant creative partner. My mother is also a big inspiration when it comes to creative ventures.
[twl_embed link="https://www.instagram.com/p/BzgZImNAto1/"]
7. What collaborations should we be watching out for from The Squad?
We're currently in the process of signing a contract with an international hotel chain, to showcase Pakistani culture at some breathtaking venues. We can't spill the beans on this one yet, but we'll be revealing it very soon. Apart from that, we've been in talks with great people from across the border and have some plans in the pipeline. Some of these are collaborations are with some of the best artists from across the border. We've also been in contact with Anushka Sharma and Virat Kolhi'swedding team and had our initial meeting in Mumbai a few months back.
[twl_embed link="https://www.instagram.com/p/Bz3wJQYB9za/"]
8. What's next for The Social Squad?
We don't typically divulge a lot of information about our future projects, as per our client's confidentiality. As a boutique company, our work process is bespoke, personal planning and execution; hence everything is revealed closer to the event. However, we are going to be putting up a multicultural for a Pakistani businessman's daughter in the Middle East next year. We're also in the planning phase of a homegrown brand's private weekend retreat at a local destination in Pakistan. And – if it's of any importance –The Squad itself is getting married next month in our hometown, Karachi!
[twl_embed link="https://www.instagram.com/p/BzknUu2A9cZ/"]