Gone are the days of those flawless, matte foundations; the newest rage is all about glowing, dewy skin! Our Instagram feeds are filled with luminous photos of people and we want in. Even though all of us aren't lucky enough to be blessed with naturally dewy skin, there's a very easy way to achieve that look. All you need is your trusty makeup! If you love dewy skin and want to glow for days, read our six-step guide to get this desired look.
[twl_embed link="https://www.instagram.com/p/BzyHW_WA0zs/"]
1. Exfoliate Your Skin
It's important for your skin to be properly cleansed and moisturized regardless of the makeup look you're going for. But when it comes to dewy skin, exfoliating is key! It gets rid of all the dead skin so you have fresh, clean and soft skin as your blank canvas. So along with cleansing, toning and moisturizing, add an exfoliator into your routine. For sensitive skin, opt for a gentle scrub and limit your exfoliation to twice a week.
2. Apply Your Foundation
Once your skin is clean and ready for makeup, it's time to apply the foundation. Make sure to use just half the amount of foundation you typically do – we're going for a sheer to light coverage look. Use a damp sponge or wide foundation brush for a flawless finish. For an extra boost, mix your foundation with a little liquid highlighter or facial oil – it'll amp up the glow like you won't believe! But make sure to use a matte formula if you're going to add oil or highlighter.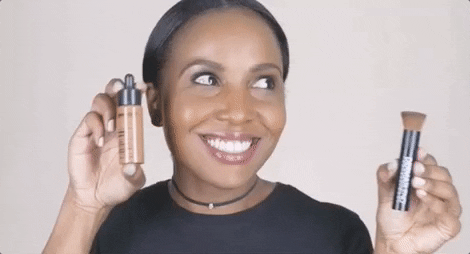 3. Brighten It Up With A Highlighter
A dewy makeup look is incomplete without highlighter but that doesn't mean you cover your entire face with it. Use a tiny amount of product on the high points of your face to create a natural glow. We recommend using liquid or cream highlighters as they're much easier to blend into the skin. But if you have naturally oily skin, use a powder highlighter instead.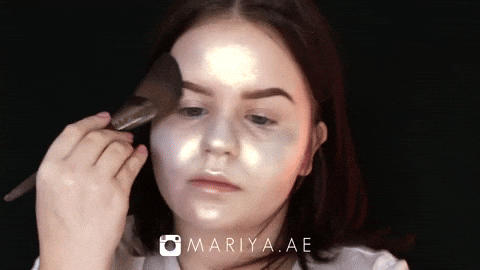 4. Blush and Bronze
The perfect look needs a little blush and bronzer duo to tie it all together. Give your cheeks a healthy flush of colour by adding a swipe of warm-toned blush; think peach and apricot colours! Add some bronzer to your cheekbones as well – not only will this give your face some definition, it'll also give you a perfectly sun-kissed natural glow.
5. Lock the Look In Place
No one wants makeup that's melted off before the day has even begun! Before you get on with your day, don't forget to set your face and lock the look in place. If you have oily skin, it's going to be a fine line between looking dewy and becoming a greaseball. To keep the oiliness at bay, set your face with a finely milled translucent powder and follow with setting spray. If you have normal to dry skin, skip the powder and just use a face mist.