This Eid, we're here to help you find the perfect pair of shoes for yourself. Trends suggest you take a bold approach to classic styles by incorporating festive elements like embellishments and embroideries even as far as footwear is concerned. Interested? Scroll down for the most eye-catching styles on the market this Eid!
A Floral Tale
Nadiya Kassam knows how to make your footwear do the talking and this piece is a perfect example. It's perfect to pair with plain outfits to amp up your outfit!
High Gardens
We dont know about you, but we love these Jooti Shooti khussay. Floral prints have been trending since forever, and this pair is perfect for those who love to embrace their feminine side.
Cherry On Top
Florals and studded. There's nothing better than having our two favorite design elements incorporated in one shoe. Plus, it goes without saying that a pair of flat sandals is perfect fit for any Eid event. Thanks Almas!
Ring In The Bling
A little party never killed nobody so take the party to your feet this festive season, with these sequin rose gold slides by Chapter 13.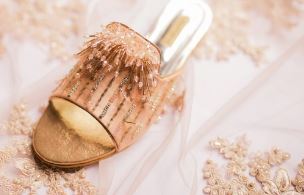 Lace Is More
If youre a minimalist, we've got you covered. Nothing will allow you to keep it simple and still make a statement like these Miaasa metallic sandals.
Wicked
A girl can never have enough black in her closet! This Eid invest in a classic pair like this one from Aldo. Trust us, it's the ultimate footwear for all your gatherings on Eid and after.