The intense chatter around the bridal trousseau and its garments begin almost a year before the festivities even begin. Next come the rest of the women in the family — mothers, aunts, sisters, and cousins, all climbing into cars and speeding to pick the fabric, or get fitted at the atelier of their choice.
It's about time we asked the forgotten question though: what about the boys?
The grooms and their men are left to pick out whichever shalwar kameez is the least dusty from the backs of their closet, borrow waistcoats, or loan suits from their fathers and uncles. It's all done quickly and quietly, devoid of any hype. Men aren't allowed to get excited about their clothes because it's considered effeminate— but we're discarding that idea straight into the bin this wedding season. It's simple, really: men should be encouraged to be well dressed, and to express their style. This season lets play with different styles and patterns, embrace our originality, and kiss the bleak days of the plain black sherwani good-bye!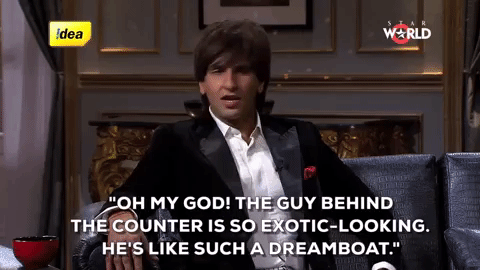 1. Pocket Squares And Handkerchiefs
If you're wary of harnessing your inner Ranveer Singh and jumping into the sea of colour and print just yet, then start out small. Pocket squares can be worn with traditional sherwanis, waistcoats, shalwar kameez, or suits. You can keep these traditional with minimal embroidery, or in plain solid colours, while still elevating your look with the addition of a colourful pocket square. It'll contrast against the rest of your outfit and bring life to whatever you're wearing. It's also a relatively inexpensive addition that can go a long way. You can match it to your brides johra, use a cultural print like ajrak, or just go with your favourite colour. This tip is easy to do for any event — for dholkis and mehendis, place them in the pocket of your kameez, and for shaadi's in your suit pocket. 
2. Have Fun With Your Suit
The plain black suit is every groom's go-to piece of apparel for his wedding day. Sadly, it turns them into just one of many other grooms, who all look identical during wedding season. The line up of grooms during wedding season can come to resemble a factory conveyor belt of action figure toys, all dressed in a uniform fashion. Clothes are all about personal style and what makes you unique! Your wedding is the perfect time to own it. A well-tailored suit is a perfect pick for any groom, but it can be played around with. If you've got a playful personality and aren't a fan of the formal look that comes with both suits and sherwanis, then pair your plain suit with a brightly printed, open button dress shirt. Yellows, pastel greens, and blues all go well with black. To avoid looking busy, get a shirt which is bold but with plenty of negative space as well for the eyes to rest. This works best with day weddings and valimas, where the dress code can become a little more relaxed. 
If you prefer the suave, more structured and formal look with your suits, then consider a cool lapel pin to play it up. 
3. Try A Bright Pagri!
This is for the men who have to be forced into wearing pagris for the sake of tradition and heritage by their elders. Picking your own brightly coloured one serves two functions: it'll double as both traditional wear and a statement piece too. It's a fun twist on an old classic!
4. Contrasting Waist Coats
The rule has become to wear a brightly coloured kurta to dholkis with a plain coloured waistcoat over it — this softens the effect of any bright colours, and gives your outfit a more structured look. We see this year in and year out at mehendis as well. Instead, go against the grain with a plain white or plain black kurta, and over that layer a brightly coloured waistcoat. Essentially, you're layering colour or print over a solid background and showcasing it. The contrast is highlighted a bit more but in a sophisticated and understated way. Ironically, wearing a coloured waistcoat is actually less of a bold choice than a coloured kurta, given that the waistcoat only covers your torso, and so the pop of colour is concentrated in one area. A little adjustment like this to your outfit will make you look more stylish, and rid you of any fear that the use of colour might come across as too 'loud.'
5. Update Your Sherwani
Clothing tells a story. Any old off-the-rack sherwani won't do justice to your taste, the aesthetic of the event you're wearing it to, or complement your brides johra. The traditional sherwani was worn by the nobility in British India — it was the court dress of royal princes and senior members of the aristocracy. The concept behind bridal lehengas is regality. The clothes should embody the old world glamour of the Mughal age. Sherwanis are meant to mirror that too! The outfits are supposed to transport you for one night. There's nothing banal about it — the structured shoulders, the knee length kameez; it's all so you feel like royalty. Pick a sherwani which has been embellished to accentuate this idea! If you're not a fan of too much embellishment, then try one which is barren except for some thread work motifs. If that's still not your taste, then opt for an entirely plain one in gold, copper, or darker hues. 
6. Loose Kurtas
The same cotton kurtas can get boring to wear one after the other. With the number of dholkis you'll have to attend this season, it can start to feel like there's no variety, and you're just throwing on clean clothes in varying colours. Treat yourself to a few luxury kurtas with light embroidery in thicker fabrics like silk or linen! These fabrics work best in metallic colours. You'll feel like a million bucks in these, and definitely look wedding ready! Watch out for SFK Bridals Bespoke Menswear!