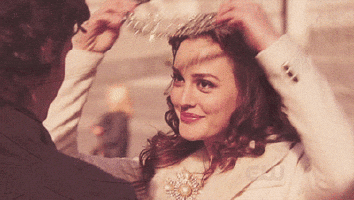 I was 14 years old when Blair Waldorf came into my life, demanding the kind of presence I had never seen from a girl on the small screen before. The iconic Gossip Girl character, played by Leighton Meester, was my first fashion-related television memory, and her impact on me was profound. After Blair's reign, I discovered other television heroes – Rachel Zane (Suits), Carrie Bradshaw (SATC), and Brooke Davis (OTH), to name a few. And sometimes, without even realising it, their style influenced my wardrobe. Maybe it's because we see these characters on a weekly basis that we eventually become attached to them. Who they are is reflected in the clothes they wear, which we fail to realize, is something we mimic. Our clothes tell our stories, and television subliminally advises us on how best to package these stories. We pick up cues on what power looks like, what to wear to confrontations, funerals, weddings and so on.
Closer to home, we had Tanhaiyaan and Humsafar. Would you believe the wardrobes for these iconic dramas – separated by over two decades – were designed by members of the same family? Well, it's true. We sat down with designer extraordinaire Feeha Jamshed to discuss how her father, Tanveer Jamshed, better known as Teejay, revolutionized the shalwar kameez and how she followed suit when it came to the peshwas.
Airing in 1985, Tanhaiyaan broke boundaries and pushed the envelope during Zia-ul-Haq's military dictatorship. Zara, played by Shehnaz Sheikh, was an empowered, forward-thinking woman. She didn't need a man to depend on; her determination alone to buy back her parents home was enough to turn it into a reality. She didn't just crack – she bulldozed through the glass ceiling. At a time when PTV news anchors were required to cover their heads, Zara merely wore a scarf around her neck. The costumes by Teejays were built on a simple yet powerful philosophy – a woman didn't need to wear a dupatta to dress modestly. Teejay's cuts weren't body hugging; they were influenced by the west. The style wasn't feminine or androgynous; it was global. Tanhaiyaan could have been set in Paris, and Zara would not have looked out of place. I'd imagine for many Pakistanis, watching Tanhaiyaan in the 80s was aspirational – inciting fantasies about how life could be.
It was a life people wanted so badly, they purchased their way into it – one garment at a time and the mile-long line outside Teejay's store was proof. The brand would sell out every day. Restock the next day, only to sell out again. "They (Teejay and Shahzad Khalil, the director) were doing what they were passionate about, and also sending a message across through wardrobe. Wardrobe plays a big part, not just in characterization, but also in depicting society. It helps characters come alive and be immortal," says Feeha Jamshed.
Fast forward to 2011; Pakistan was introduced to another icon – Khirad. Mahira Khan played Khirad Ahsaan in the drama Humsafar, a show that arguably marked the revival of the Pakistani drama industry. Khirad was a simple girl from a lower-middle class background, who married into a wealthy family. The drama covers the lives of the characters over a decade, and throughout the show, she never loses her sense of self – a trait especially evident in her wardrobe. "In the Baloch tribe, a man's status is shown in the volume (gher) of his shalwar; the higher his status, the more fabric is added. For Khirad's wardrobe, I picked on that. At first, she wears long, cotton A-line kurtas, and once she's married, she wears a peshwas of the same length but invests in quality fabrics like chiffon," says Feeha, who created Khirad's wardrobe.
A wardrobe iconic enough to dictate trends! In 2011, every brand in Pakistan made longer kamiz's, churidars, and of course peshwas'. It suddenly became trendy to wear a garment which otherwise was reserved for decadent events, as everyday attire. For a country that only ever debates over pants and shalwars, Khirad made a strong case for churidars. She also wore her clothes like armour. In an iconic scene where she is accused of adultery, her white peshwas vouches for her innocence and purity. When she is falling in love, she wears a black peshwas – a colour romanticized in Yash Chopra classics such as Chandani. All in all, the effect of Khirad was such that to date, anytime we see a peshwas, the comparison to Humsafar is inevitable.
Unfortunately, Pakistan doesn't produce iconic characters too often, even with strong storylines and a budding industry – there may be many reasons, one of them may just be wardrobe. Feeha says, "It's about depicting characters – going into their psyche, not just seeing them on the surface level. For example, if you want to show a rich girl, why does she need to look like every other rich girl? We need to start to make believing our characters to be a certain way in order for their style to actually become a statement. That's how characters become untouchable."
Fashion on TV is meant to be much more universal. It is attractive while remaining functional and accommodating of individuality, personality and quirks, in a way that runways and magazines are unable to illustrate. But unless media houses, costume designers and art directors work in synergy, it may be a while till we meet our next Pakistani television icon.